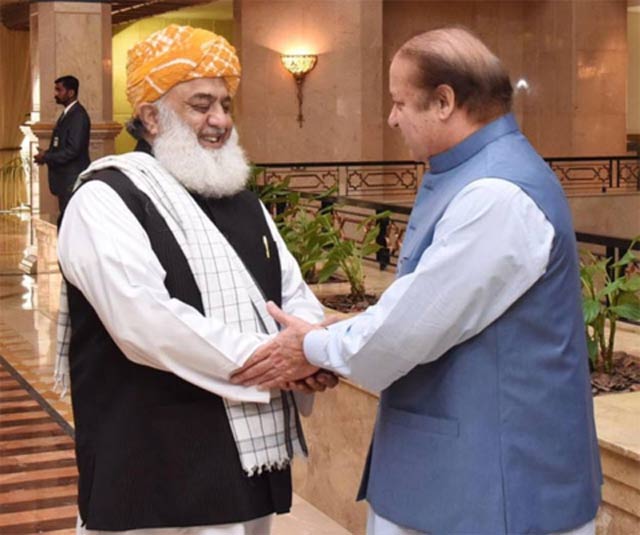 ---
ISLAMABAD: The Pakistan Muslim League-Nawaz and its frontline ally Jamiat Ulema-e-Islam Fazl may be locked in renewed tensions due to Prime Minister Nawaz Sharif's apparent silence over the United States' 'technical refusal' to grant a visa to Senate Deputy Chairman Abdul Ghafoor Haidri, a senior leader of the religious party.

Sources aware of this development told The Express Tribune that JUI-F chief Maulana Fazlur Rehman took up the issue with Premier Nawaz and urged him to intervene. The top PML-N leadership reportedly assured JUI-F of complete cooperation, but the prime minister has so far stayed silent on the matter.

Haidri visa refusal tied to Obama, not Trump policy

"A public statement to put weight behind the JUI-F would have done," a senior JUI-F member said. "We told them [PML-N leadership] that it's not about our party, it's about Senate's and parliamentarians' dignity," he added on condition of anonymity.

The development is likely to deepen differences between the ruling coalition.  Earlier on February 7, the JUI-F and PkMAP skipped an important meeting between the government and opposition on military courts due to reported differences with the federal government on Fata reforms.

Speaking to The Express Tribune, JUI-F chief Maulana Fazlur Rehman said his party was targeted because it was a religious party. "Today, a religious party has been targeted. Tomorrow, any other party would be targeted.

Today, you are sitting silent because we are targeted. Tomorrow, it will be your turn."

Asked if he took up the issue with the prime minister, he said, "The issue has been forcefully and assertively taken up with all the relevant authorities that matter. Now we will see what happens. Whether you want to stay silent and submissive just because you are in power or you want to challenge the world powers."

US visit called off after Senate deputy chairman denied visa

Fazl asked if Pakistan's Foreign Office and interior ministry had the 'courage' to deny visas to the American dignitaries. "If not, it's high time for some self-reflection."

The JUI-F chief lauded Senate Chairman Raza Rabbani's stance on the issue, saying he upheld the parliament's dignity by putting up a 'solid' response.

Rabbani, on Saturday, took serious notice of the denial of visa to Haidri, announcing that "no Senate delegation will visit US unless an explanation to the delay in issuance of visa to the deputy chairman is given by the US government or embassy of US in Pakistan."

"No delegation, member of Congress or diplomat of the US will be welcomed by the Senate of Pakistan, Senate standing committees and the senators in their official capacity till this issue is resolved," he added.

Official sources said the PM's silence on the issue has much to do with its desire of developing a 'cordial relationship' with the Trump administration. Even though Pakistan is not in the list of countries whose citizens face a travel ban from entering into the US, reports suggest that Pakistanis would be subjected to 'extreme vetting' in case they wanted to land in the US.

Prime Minister's Adviser Ameer Muqam termed the visa refusal 'unfortunate.' On the premier's silence, he said, "I think the Senate chairman taking notice of the incident covers the ground well. In diplomacy, you do not offer a knee-jerk reaction on sensitive issues, but I assure you that our government will take appropriate measures to uphold parliament's dignity," he said.

Sources said the JUI-F felt more embarrassed given that a PML-N senator was given the visa without any delay but their own stalwart, despite being Senate deputy chairman, was refused.

Published in The Express Tribune, February 13th, 2017.
COMMENTS (7)
Comments are moderated and generally will be posted if they are on-topic and not abusive.
For more information, please see our Comments FAQ