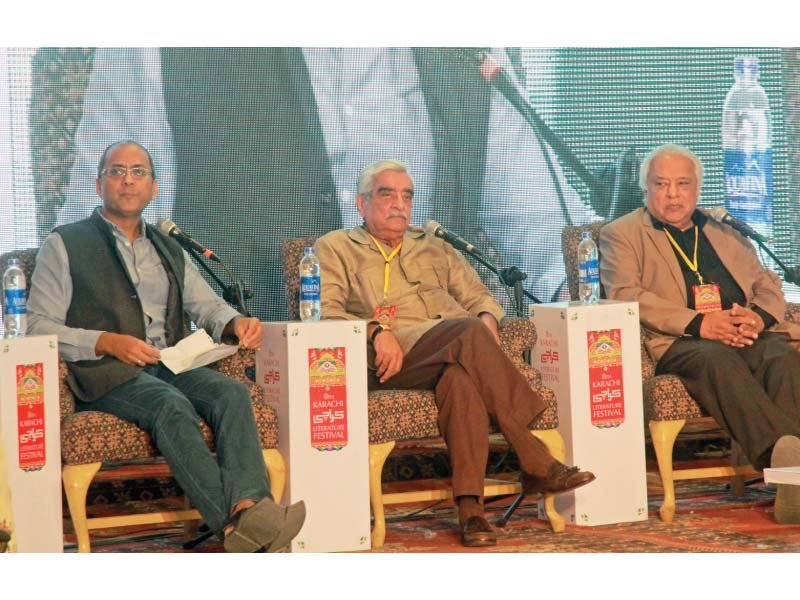 ---
KARACHI: Politics to separate Karachi from Sindh has been crushed. The issue is dead now.

Haris Gazdar, who works with the Collective for Social Science Research as a director and senior researcher, said this while discussing the political cleavage between Sindh and Karachi at a session, titled 'Karachi: Is Pakistan's Boom Town still Booming', on the third day of Karachi Literature Festival (KLF). His statement was followed by a roar of crowd in Beach Luxury's Jasmine hall.

Karachi always remains in your blood: Omar Shahid Hamid

According to Gazdar, major elites continue to rule the city and the political cleavage remains unsettled despite the crushing of politics on the issue. Lots of class struggle, he said, is around katchi abadis and the revival of the Karachi Circular Railway will open up further class struggles of the sort. Meanwhile, Urban Planner Arif Hasan termed politics extremely important in the growth of the city and that Karachi is not the only city facing this issue.

"Karachi is now a non-Sindhi speaking capital city of a Sindhi-speaking province," he said, adding that the Sindhi population wants to control the city through a centralised form of government whereas the Urdu-speaking population of the port city wants to control it through a highly decentralised form of government. "This tension would need a solution of some sort," he said, adding that Bombay has the same problem where local population is in minority. When asked about a solution to this issue, he said that there is a theoretical literature available on this. In Thailand, he pointed out, the issue was almost resolved with negotiations but army intervened and negotiations ended.

Shaikh Ayaz: The voice of the people

To this, diplomat Najmuddin Shaikh pointed out that Bombay has a metropolitan corporation with lots of municipal powers as compared to that of Karachi's. Orangi Pilot Project's Aquila Ismail said that the issues of the city won't resolve until powers are decentralised. When asked if the capital of Sindh could be moved to defuse the tensions, Hasan responded that Karachi has a relation with Sindh as the capital city. He asked what happened when Islamabad was made the federal capital. "In my opinion, Karachi is Sindh's capital and it should be," he said. Gazdar further explained Karachi is a very unique city of Pakistan, where issues are resolved politically and through market forces. However, he pointed out, in cities like Islamabad and Lahore, issues are resolved administratively. The politics and market forces bring equilibrium solutions to this city's issues, he said.

Is Karachi booming?

In Karachi, Hasan said, there are a plenty of empty plots and at the same time hundreds of high-rise buildings being constructed. "Is this a boom or extremely damaging for [the] city's future?" he asked.

He further mentioned that the port city had 28,000 mini-buses in 2011 and it had less than 9,000 in 2016. "Is this a boom?" he again asked and the audience laughed. "I can go on [about] this disparity," he said with a smile, adding that if these all are booms, one must know at what cost.

Published in The Express Tribune, February 13th, 2017.
COMMENTS
Comments are moderated and generally will be posted if they are on-topic and not abusive.
For more information, please see our Comments FAQ