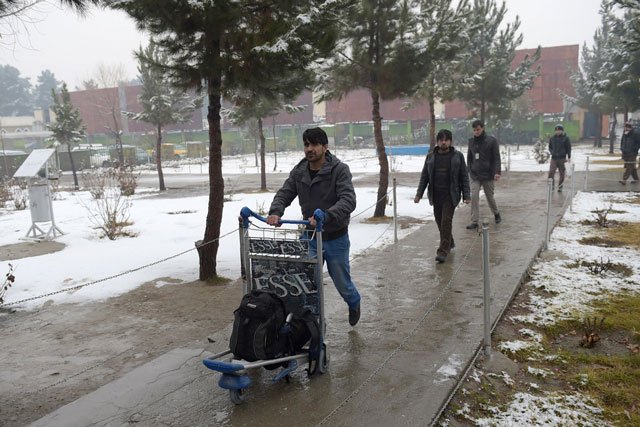 ---
KABUL: Barely two weeks after Germany deported him, an Afghan asylum seeker was struck by flying shrapnel in a suicide bombing in Kabul, highlighting the perils of repatriation to the war-battered country.

Atiqullah Akbari, 23, was caught up in Tuesday's militant attack at the Supreme Court in Kabul, a terrifying scene of carnage, bloodshed and agonising screams, which left 20 people dead and 41 others wounded. Akbari, now battling severe headaches after shrapnel injured his face, was deported to Kabul on January 24 after he was picked up a day earlier by German police in his home in Bavaria where he sought refuge.

He is among 60 Afghan nationals who have been returned to Kabul since December under an agreement signed between the European Union and Afghanistan last October. "I will go back, I must go back," Akbari told AFP on the day he arrived, clutching two handbags, his only possessions. "I have nothing left here. My family has fled to Turkey after selling our house," he said, seemingly lost in the crowd on the snowy day.

Suicide bomber kills seven, wounds 20 in Afghan provincial capital

Germany's government is under pressure to act as the migrant influx has boosted a right-wing populist and anti-immigration movement, and the number of far-right hate crimes against foreigners has soared. But the government has also faced increasing opposition at the state level against sending Afghan nationals back home to an increasingly dangerous environment.

In October 2015 Akbari fled his home in the western city of Herat, where he worked for an Afghan NGO, after what he described as death threats. "We'll kill you, your family first, then it will be you," he recalled, without specifying the source of the threat. "Here there is 100 percent danger for me," he said, explaining his motivation to flee to Germany -- first to Munich and then to the town of Bamberg in Bavaria.

This is where Uschi Josat, a German merchant from the neighbouring area of Strullendorf took him under her wings, eventually becoming a mother figure to him. "We helped him out, he came to eat with us and on weekends he slept at home," Josat told AFP. "Atiqullah was completely integrated in Germany. He learnt to speak and write German... He was the best in his integration class," Josat added, voicing dismay over his deportation.

They have spoken nearly every night since he returned to Kabul. "Psychologically he is very affected," she said. "It was unfair that he was expelled. He did nothing wrong. He needs another chance." Afghanistan is plagued by insecurity, poverty and unemployment, and is increasingly overwhelmed by people repatriated from Pakistan, Iran and Europe along with hundreds of thousands of others displaced by war.

Afghan military would support more foreign troops, official says

Germany, which has taken in over one million asylum seekers since 2015, last Thursday announced plans to speed up the deportation of those denied refugee status. Five German state governments have decided to halt most expulsions to Afghanistan, according to media reports, citing the worsening instability in the strife-torn country.

Chancellor Angela Merkel -- who faces a re-election bid in September amid a voter backlash over the mass influx -- argues that though it was "not easy" to send Afghans back home, those denied asylum could be sent back to certain regions that were safer.

"No, Afghanistan is not a safe country," placards said at protests in various German cities on Saturday against the deportations. The United Nations reported in early February that civilian casualties in Afghanistan peaked in 2016, with nearly 11,500 non-combatants -- one third of them children -- killed or wounded.