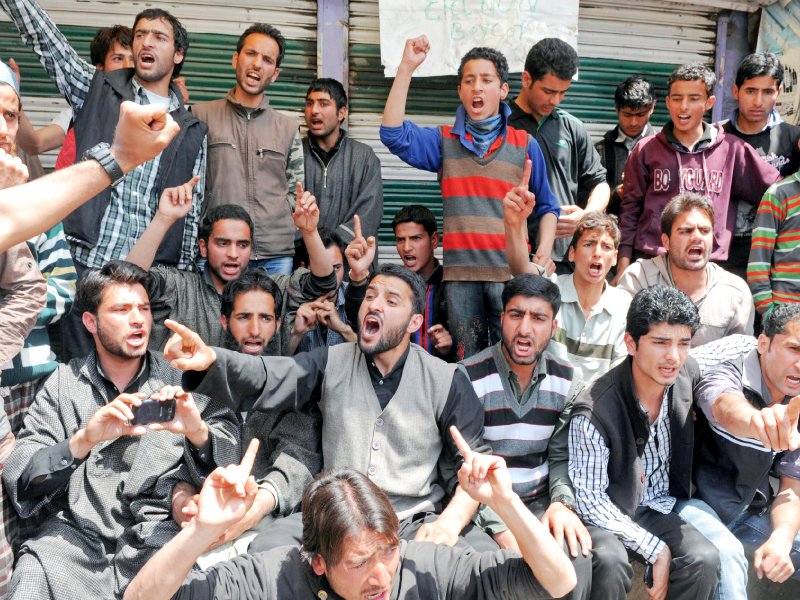 ---
SRINIGAR: Four youngsters and two Indian army soldiers were killed in a gun battle in a village in Indian-occupied Kashmir on Sunday, an army spokesperson said.

The young men were hiding in a south Kashmir village when the army and police surrounded it, a police official said.

In the ensuing fire fight four people and two soldiers were killed.

"Four terrorists were killed and four weapons were recovered from the encounter site," army spokesprson in Srinagar, Col Manish told AFP.

"Two soldiers were also killed and three injured during the encounter," he added.

Kashmir Day: 'India should end atrocities in Kashmir'

The operation was ongoing, Col Manish said.

A civilian, the young son of the owner of the house in which the men were hiding, was also killed, Indian-held Kashmir police chief SP Vaid told AFP.

Three others managed to escape, a Superintendent of Police, who declined to be identified, said.

Several rebel groups have for decades fought the 500,000 Indian troops deployed in the region, demanding independence or a merger of the territory with Pakistan.

The fighting has left tens of thousands, mostly civilians, dead.


COMMENTS
Comments are moderated and generally will be posted if they are on-topic and not abusive.
For more information, please see our Comments FAQ