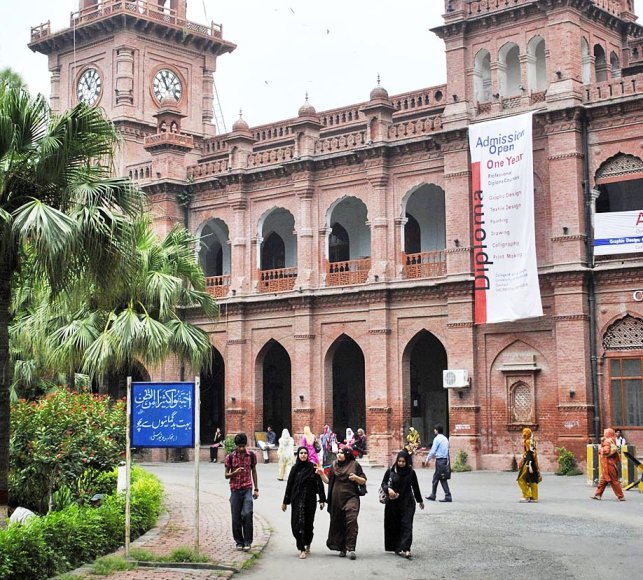 ---
ISLAMABAD: Campus violence is on the rise in universities across the country. More than a dozen clashes have been reported during a six-month period between student wings of various religious, political and ethnic parties in the universities of Punjab, Sindh and Khyber-Pakhtunkhwa.

Most incidents were reported from Punjab University (PU), Karachi University (KU), Quaid-i-Azam University (QAU), International Islamic University Islamabad (IIUI) and the Federal Urdu University of Arts, Science and Technology (FUUAST).

Student groups in most public sector universities are deeply polarised along linguistic, sectarian and political lines.

Since 1984, there has been a complete ban on student unions across the country.

On Friday, the PU witnessed a scuffle between two student groups. The university management later called police which was still on campus to avert the recurrence of any untoward incident. This is the third time such an incident has taken place on PU campus over the past three months.

In November last year, two university students were shot dead when two rival groups clashed outside the University of Hazara in Mansehra. Later, police registered cases of rioting against 145 students.

In February this year, student groups also clashed in FUUAST, QAU and IIUI. Managements of the first two universities took stern action against groups involved in violence, while the management of the last varsity took no action whatsoever.

University managements are often found to be helpless in settling different issues for good despite adequate media coverage and intervention of parents.

The uptick in campus violence across the country warrants serious concern, but nothing is done about it even after shoot-outs.

A senior faculty member at QAU, Zafar Nawaz Jaspal, blamed the weak hold of vice-chancellors over such issues, saying that discipline-related incidents led to the occurrence of such incidents. "Since most such appointments are political in nature, they are unable to muzzle those creating a ruckus on campus," he said.

He said that recently the QAU vice-chancellor dismissed action against a few students on disciplinary grounds. "This encourages such (negative) activities on campuses," he concluded.

Chairperson of the Punjab Higher Education Commission (PHEC) and a former vice-chancellor Dr Mohammad Nizamuddin said that the issue was too complex and needed to be tackled seriously.

By filing FIRs and expelling students, he said, nothing is accomplished.

A common platform of peace and tranquility can be attained by sitting with students over seminars, symposiums in consultation with managements of the universities.

Earlier, Pervez Hoodbhoy, a former professor at the Lahore Univeristy of Management Sciences (LUMS), was asked whether it would be a good idea to scrap the ban on student unions. According to him, a healthier option would be to allow student unions with recognised leaders who could be held responsible if there was violence.

He was also cautious about suggesting that initially political parties should not be allowed to have student wings on campus. This, he said, would raise tensions and is likely to disrupt academic activities. However, he said, after students gained enough maturity, they could be allowed.

Published in The Express Tribune, February 12th, 2017.
COMMENTS
Comments are moderated and generally will be posted if they are on-topic and not abusive.
For more information, please see our Comments FAQ