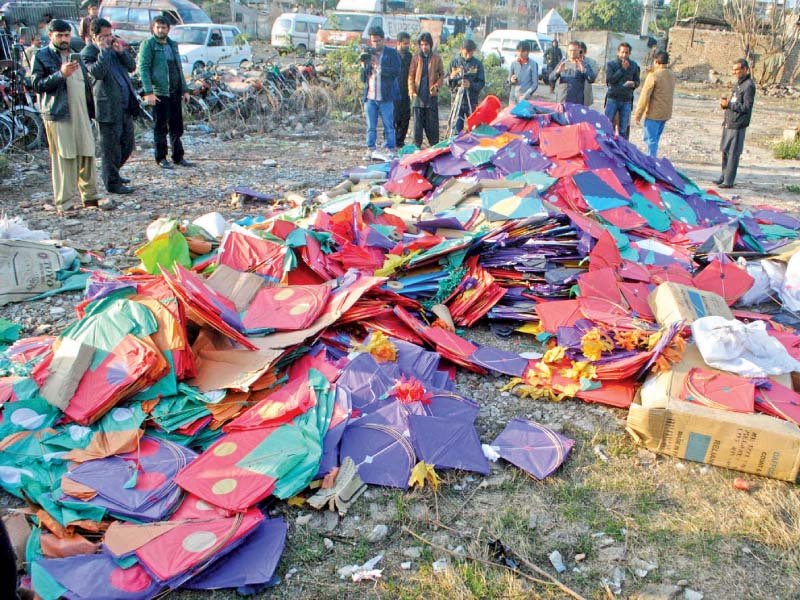 ---
RAWALPINDI: Pirwadhai police on Saturday set on fire thousands of kites and rolls of chemically treated kite-strings.

Following court orders, the goods were burnt.

Police had on Friday had raided a warehouse located along the bank of Nullah Leh, near Muslim Park and confiscated around 157,000 kites and 15,000 rolls of kite-string. The warehouse is owned by a notorious kite-string dealer Sheikh Nadim, who managed to flee.

Police shifted the seized kites and string to police station in a truck and registered a case against the dealer.

"Yes, we have raided a secret warehouse where the owner, Sheikh Nadim, had hidden kites and twines," said police officials.

According to police, the owner used to sell the kites and string to shopkeepers in Bhabra Bazaar.

On Saturday, with Magistrate Faisal Islam Hinjra overseeing proceedings, police burnt the kites at the Khayaban-e-Sir Syed police post within the remits of Pirwadhai police station.

Moreover, in a bid to create awareness among people about the disadvantages and dangers of kite flying, Cantonment Police and members of civil society had arranged a an awareness walk in Saddar on Friday.

Special announcements were also made in mosques during Friday prayers, cautioning citizens and dealers not to fly or sell kites or else legal action will be taken against them.

Published in The Express Tribune, February 12th, 2017.