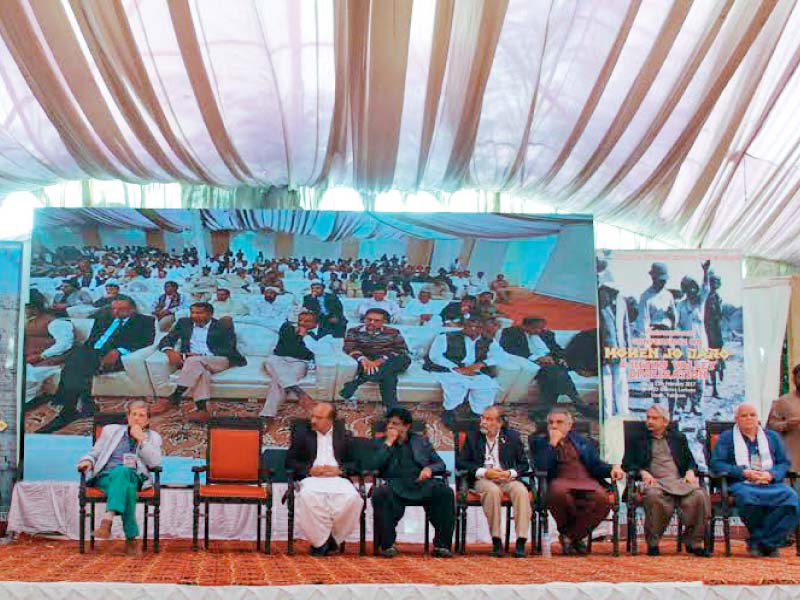 ---
MOHEN JO DARO: This is the first major conference to be held in Mohen Jo Daro since 1973, said Dr Richard Meadow, who teaches anthropology at Harvard University. He was speaking at the concluding session of the International Conference on Mohen Jo Daro on Saturday.

"This has been a great opportunity for people from outside and within Pakistan to meet and discuss archaeological matters and matters related to Mohen Jo Daro," he told participants. "We need to discuss and evaluate past and present measures to ensure the preservation of the site and engage the public in an accurate fashion," he added.

Sixteen scholars from countries such as the United States, Pakistan, Japan, Italy and Spain presented their papers on the Indus civilisation during the three-day conference organised by the National Fund for Mohen Jo Daro and provincial culture department.

"We have seen a great diversity of perspectives and interesting new data, as well as ways of reworking older data at the conference," said Dr Meadow, summing up the technical sessions held to discuss methods of preservation and excavation at the site.

"Efforts must be made to protect heritage sites in Pakistan, especially in Balochistan, where artefacts are being pilfered," he urged. He also said the provinces should share information in order to not reinvent the wheel.

"This conference will go down in history, as did the 1973 conference," said Dr Kaleemullah Lashari, had of the Technical Consultative Committee for Mohen Jo Daro, who was instrumental in organising the conference. There is a threat to Pakistan's heritage sites, such as Makli and Mohen Jo Daro, being removed from the World Heritage Site List, he shared, saying this wake up call should have come much earlier.

"We have begun a phase of trust building and have started making waves," he said. "We have a long way to go but our partnership will, I hope, reassure [Unesco] to keep us on the heritage site list," he added.

"We must now rise to the occasion as we have no time left to lose," warned Dr Lashari. He suggested that Pakistani universities be empowered and given a greater role to play in archaeological work. University archaeology departments without sufficient funding or mentoring cannot flourish, he said.

"This was the greatest and most beautiful conference I have ever attended in my life," praised archaeologist Dr Michael Jansen. He told participants and organisers of the session that the event was made even more memorable by the fact that it was organised 'from their hearts'. "No one will ever forget this, as this was not just an intellectual event, but a personal one too," he lauded.

Also present at the event was minister for parliamentary affairs and food Nisar Khuhro. "It has been a long time since we've had such an event here at this site, which teaches us what our heritage could be," he told participants. "Mohen Jo Daro is here for the world to own," he said, adding that foreign archaeologists must come, visit the site and give their suggestions on ways of improving its preservation. "Hopefully the next conference will not be held after 50 years," he laughed, formally ending the event.

Also present at the ceremony were culture minister Syed Sardar Ali Shah, culture secretary Akbar Leghari and MPA Dr Muhammad Ali Bhutto.

Published in The Express Tribune, February 12th, 2017.
COMMENTS (1)
Comments are moderated and generally will be posted if they are on-topic and not abusive.
For more information, please see our Comments FAQ