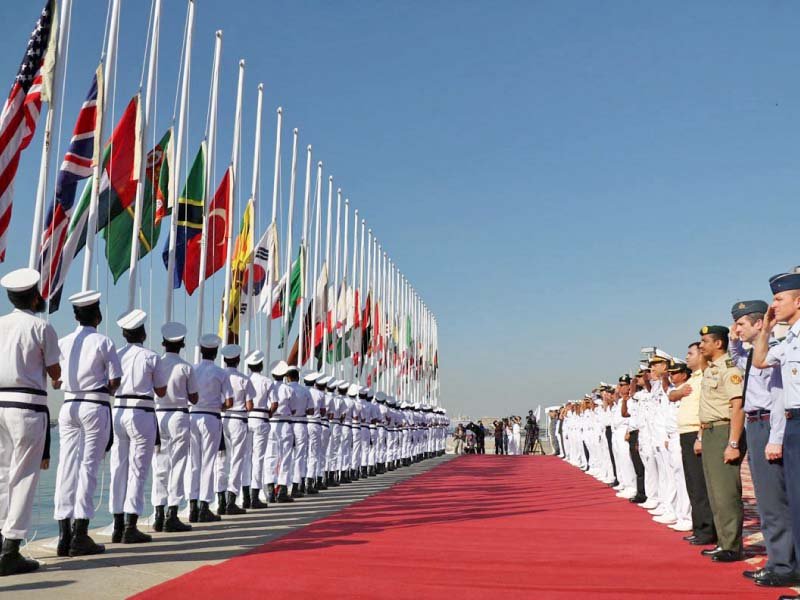 ---
KARACHI: Pakistan formally kicked off the fourth Aman-17 exercise at Pakistan Navy Dockyard on Friday.

The fourth multinational exercise formally commenced, under the aegis of Pakistan Navy with a colourful flag hoisting ceremony with the Navy band playing national songs.

"Though a total 36 countries are participating this time, nine of these countries are participating with their assets including ships, aircraft, special operating forces with Russia participating for the first time," an official of the Pakistan navy told The Express Tribune.

"Even Sri Lanka's naval chief is in Pakistan to attend the exercise."

There will be three warships from China, four from the US, two from Russia and one each from Indonesia, Australia, Turkey, Sri Lanka and United Kingdom while two P-3C Orion aircraft from Japan are participating in the exercise.

The five-day drill will continue till February 14 while Prime Minister Nawaz Sharif will also attend the concluding ceremony.

One of the key features, other than the sea exercise, is the international maritime conference spread over three days, organised by National Maritime Policy Research Centre.

"We are here for a common purpose, for a common goal to ensure security, to make this world safe for us, for the rest of humanity so that there is peace which brings prosperity and progress that is what our constitution mandates us to do," Commander Pakistan Fleet Vice Admiral Arifullah Hussaini said.

"We believe in inclusive policy and we think that if the world stands together, there will be great benefits for all of us."

The admiral said that the region is experiencing swift geo-strategic changes, which have provided Pakistan with diversified challenges but also many opportunities that mandate a secure environment not only within Pakistan but also in the region at large.

He reiterated that Pakistan Navy has always been a consistent security contributor in the Indian Ocean region.

"Being a lead nation, Pakistan's maritime forces are actively participating with other navies in combating Narcotics trade, human smuggling, gun running, terrorism and piracy at high seas. We need to make collective efforts to eliminate these threats for lasting peace in the region," he added.

The importance of this collaboration will enhance with the complete operationalisation of China-Pakistan Economic Corridor and Gwadar Port meant to bring in prosperity not only to Pakistan but the region and beyond.

"Multinational exercise Aman 17 is an effort which will surely improve response, tactics and procedures among various maritime forces operating in the region," the admiral added.

"The concept of the exercise is to promote understanding which will be developed through formal and informal interactions. The exercise is expected to further refine the concept of 'collective and collaborative' security among the participants. Pakistan in general and Pakistan Navy in particular takes immense pride in leading these efforts."

Commander Pakistan Fleet extended warm welcome to the participating Navies and hoped that their presence or togetherness will forge a cooperation, yet brotherhood which will prevent conflicts and should there be one, we will quickly resolve it to establish and maintain lasting peace. He also valued participating nations for supporting Pakistan's resolve for ensuring peace in the region.

Published in The Express Tribune, February 11th, 2017.