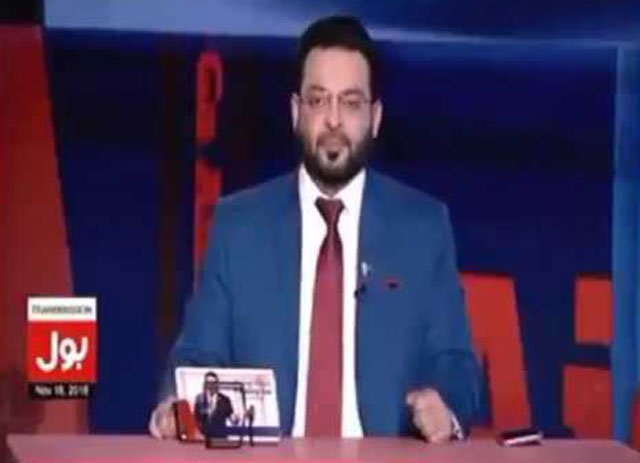 ---
KARACHI: The controversial Aisay Nahi Chaley Ga show hosted by anchor Dr Amir Liaquat on the BOL TV channel stands banned once again, as the Sindh High Court (SHC) withdrew its stay order on Friday.

Headed by SHC Chief Justice Sajjad Ali Shah, the two-judge bench recalled the temporary stay order it had granted on Wednesday on an appeal filed by Labbaik (Pvt) Limited that owns Bol.

SC bans Amir Liaquat's show

The withdrawal order came on an application filed by the Pakistan Electronic Media Regulatory Authority (Pemra), which had also approached the high court.

Supreme Court upholds PEMRA ban on Aamir Liaquat's 'Aise Nahin Chalega'

During Friday's proceedings, Pemra's lawyer Zahid Ebrahim and Kashif, placed before the bench a copy of the order passed by the Supreme Court, which had upheld the electronic media regulatory body's ban on the show.

They alleged that the petitioner had obtained a stay from the high court by concealing facts of the case. Therefore, they pleaded the court review its earlier decision in light of the SC's order.

CJ observed that the bench was not aware of the order passed by the apex court. "In the meanwhile, the suppression to this court's order dated February 7, the order passed by the apex court on February 8 at para 5 (iii) shall remain in field," he ordered.

SC bans Amir Liaquat show on Bol News

HRCP condemns

Meanwhile, in a statement issued on Friday, the Human Rights Commission of Pakistan (HRCP) has expressed grave concern over the 'vicious campaign' of Amir Liaquat to ridicule renowned journalists and social activists and, even more dangerously, to incite violence against them.

Published in The Express Tribune, February 11th, 2017.