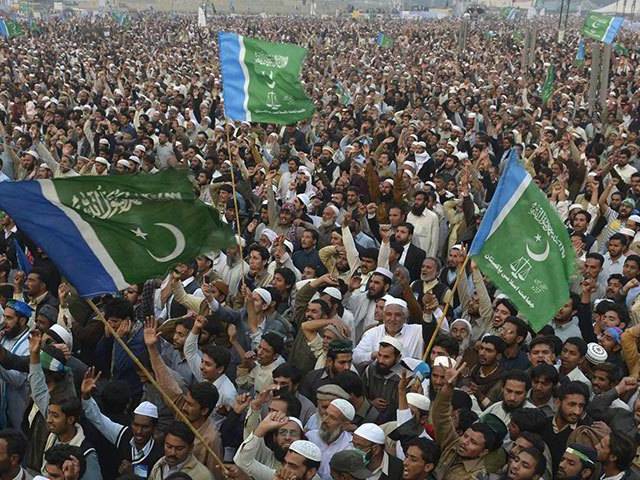 ---
PESHAWAR: The Jamaat-e-Islami on Friday unveiled plans to launch an agitation campaign against the federal government for not taking up the issue of reforms in the Federally-Administered Tribal Areas (Fata) during a recent meeting of the federal cabinet.

Terming the government inaction a 'cruel act', head of JI in Khyber-Pakhtunkhwa Mushtaq Ahmed Khan said that the party would observe a black day across the tribal belt to protest against the inordinate delay in the implementation of the reforms.

Jamaat-e-Islami sold leased plot illegally, PAC informed

Subsequently, he said, the party would stage a sit-in at the Governor House in Peshawar, adding that tribal elders and other stakeholders would take part in the protest.

"If tribesmen's demands are not accepted and the reforms package is not approved by the prime minister by the end of March this year, the JI will stage a long march and a sit-in at Islamabad," Khan said.

According to him, the prime minister and his government had insulted 330 out of 342 lawmakers by vetoing the inclusion of the reforms package in the agenda of the cabinet meeting, adding that lawmakers in the Senate had also approved the reforms package by the same ratio.

Lashing out against elements opposing Fata's merger into K-P, he said that these people were sitting in Islamabad and favouring the Frontier Crimes Regulations (FCR) for the tribal areas.

World powers have hijacked Pakistani govt, says Siraj

"The FCR is being used to make tribesmen's life unbearable, compromising their basic human rights for the past several decades."

Pointing out that a consensus had emerged among lawmakers at the parliamentary level, he said that all but two political parties are still opposed to the reforms package.

He said that the FCR extended extraordinary powers to the political agents, who could sentence anyone to jail terms as long as 10 years without any valid reason.

He said that it was shameful that people in Fata were deprived of their basic human rights, such as health, education and other such facilities.

"As prisoners, people across Fata are persistently being treated in the worst possible way under FCR by comparison with other prisoners elsewhere in the country … They are at least allowed prisoners' rights," Khan said.

The party also announced plans to support the call for an All-Parties Conference on March 12 in Islamabad over Fata reforms, adding that JI chief Sirajul Haq would represent the party in the meeting.

Published in The Express Tribune, February 11th, 2017.
COMMENTS
Comments are moderated and generally will be posted if they are on-topic and not abusive.
For more information, please see our Comments FAQ