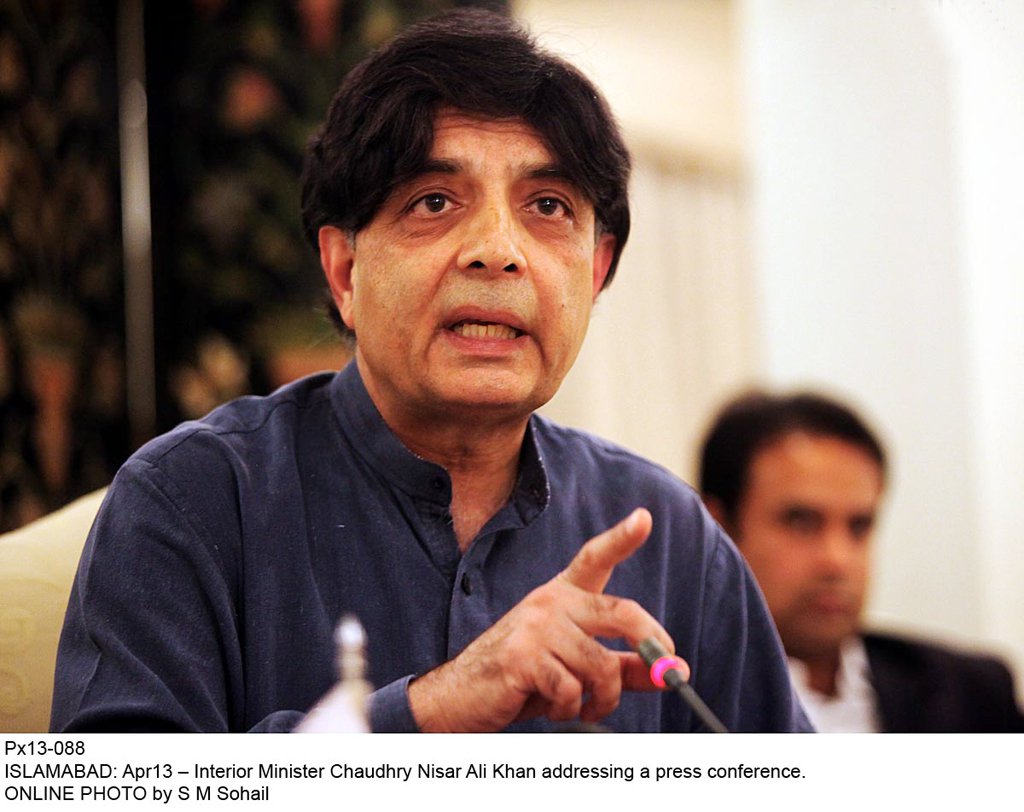 ---
KHARIAN: Pakistan was not only facing an external danger but also an internal threat from 'hidden' enemies who serve anti-Pakistan elements to create chaos in name of religion.

This was said by Interior Minister Chaudhry Nisar Ali Khan on Friday during a visit to the National Counter Terrorism Centre (NCTC), where he witnessed the graduation ceremony of the 9th National Integrated Counter Terrorism Course

He said wars are not fought with weapons alone, but passion and firm belief is a pre-requisite.

Not every bearded man a terrorist, says Nisar

"Our Armed Forces are dedicated and committed to the defence of the motherland," he said. Nisar said the war against terrorism is difficult, but Pakistan has gained numerous achievements because of sincere efforts and sacrifices rendered by the army, civil armed forces, police and intelligence agencies. "We have to take forward these achievements," he added.

Nisar said, "We can never forget sacrifices of our martyrs who laid down their lives to bring peace in the country.

He lauded the professional capabilities of personnel who have completed their training and said they have been assigned a noble task to defend the motherland. The personnel have a firm belief that they would perform their duties with passion and honesty, he added.

Later, the minister witnessed a counterterrorism demonstration at the centre.

Cabinet meeting: Nisar opposes annulling law for caretaker govt

Around 400 Rangers, Frontier Constabulary (FC), Islamabad and Gilgit-Baltistan Police personnel have been trained at the Centre. Besides Pakistani law enforcement officials, personnel from friendly countries are also trained at the centre.

Earlier Central Command Commander Lt. General Umar Farooq Durrani, and Training and Evaluation Inspector General Lt General Hadayatur Rahman welcomed the Minister. The Minister was briefed about the standard of training being imparted to improve the performance of personnel. The centre has been providing training since 2014 and so far more than 4,200 personnel have completed training here.