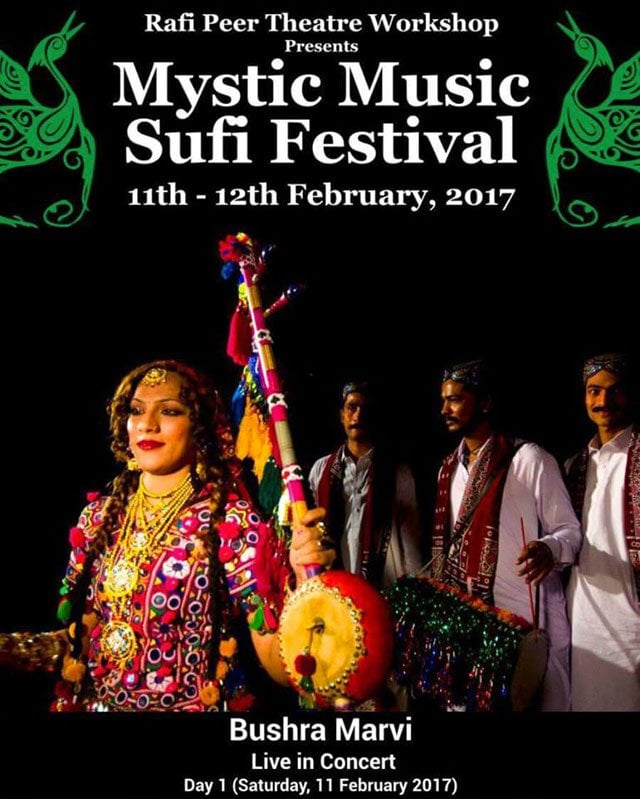 ---
LAHORE: The annual Rafi Peer Mystic Sufi Festival will be held at the Alhamra Cultural Complex on February 11 and 12, by the acting troupe itself. In this connection, a number of old and new musicians – including Hadiqa Kiani, Saeen Zahoor, Bushra Marvi, Sanam Marvi, Ali Sethi and Akhtar Chanal Zehri – have been lined up to perform at the occasion.

Sufi festival organised for patients

There is much more on the cards for this year's festival, with a special performance of Sufi dances by Nighat Chaudhry and Wahab Shah scheduled. Also in the pipeline is a special qawali presentation by Mian Miri Qawwal, Sher Miandad and the renowned Niazi brothers, along with dhol players Pappu Sain, Gunga Sain, Mihu Sain and Shaukat Dholi. Mai Dhai, Zarsanga and Krishan Laal Bheel are also part of the event.

Besides this, Sufi and folk artists from all over Pakistan have been invited to participate in the festival and the Rafi Peer administration says it is expecting a great response from the public. The theatre group has always aimed to promote the message of peace and love through everything it does and the same goes for the Rafi Peer Music Festival.

Women empowerment: Street theatre performances come to Multan

"We have tried our best to invite Sufi singers so as to spread the message of Sufi saints. Their music is an important and beautiful part of our culture and traditions," director and actor Usman Pirzada told The Express Tribune. "Every year, we try to organise the event to the best of our abilities, with lots of mystic colours and performances. This time, we will have both young and old singers such as Hadiqa Kiani who are working on Sufi music."

According to Tasneem Pirzada – the communications advisor for Rafi Pir Theatre Group – this year's event will be great. "Sufi traditions always feel new and fresh. Just like last year, this year's festival will be marvellous and the performance line-up is sure to attract many people," she said.

The excitement is sharedby the artists scheduled to perform as the Rafi Peer Music Festival, which is popular for its services to Sufi music. "It always feels good to perform Sufi music. Most of our singers do it at religious gatherings or shrines so it's even better to see it being appreciated by the public at a music festival," said Bushra. "This year, I have prepared special Sufi songs for my performance," she added.

Musician Ali Badar Miandad echoed Bushra's sentiments. "The best thing is that Rafi Peer Music Festival is being held in Lahore which happens to be the centre of cultural activities in Pakistan," he stated. "If you ask me, it is the good luck of Lahoris and those who enjoy Sufi music that they will find all big Sufi singers in one place. Such events should be held more often. They are very important at a time like now, when there is need of entertainment in our society. People are searching and waiting for these kind of festivals."

Have something to add to the story? Share it in the comments below. 
COMMENTS
Comments are moderated and generally will be posted if they are on-topic and not abusive.
For more information, please see our Comments FAQ