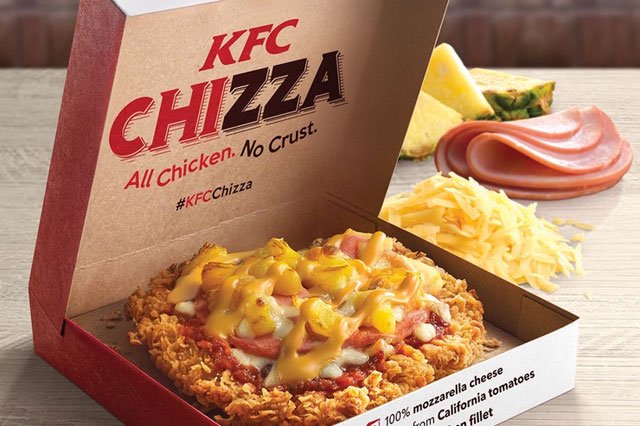 ---
Fast food giant Kentucky Fried Chicken (KFC) has come up with a mashup which is any fried chicken lovers dream come true.

The fast food giant known for its fried chicken has taken a step further and is serving pizza. KFC and pizza? You read that right!

However, this is no ordinary pizza. The 'chizza' is a combination of pizza and fried chicken, with fried chicken as the crust.

"All chicken, no crust" as KFC describes it, the chizza is "100% chicken fillet marinated, perfectly seasoned and cooked to a glorious gold, then layered with delicious pizza toppings such as pizza sauce, chicken ham, pineapple chunks, mozzarella and topped with signature KFC cheese sauce."


Watch how #KFCChizza, the #UltimateMashup of Chicken and Pizza is made! pic.twitter.com/Jw9ZBmruVI

— KFC Singapore (@KFC_SG) February 8, 2017




Loafology: Another music in a different kitchen

After news of the chizza spread worldwide, KFC issued a clarification stating that the new item is exclusive to Singapore. "We wish to clarify that it is currently only being launched in Singapore… so you guys will have to stay tuned to your local KFC FB pages for future updates!" it said.


The legendary #KFCChizza has FINALLY arrived in Singapore!!! Who's excited?! pic.twitter.com/E0QA4A60mC

— KFC Singapore (@KFC_SG) February 8, 2017


When inquired about whether the chizza will make it to Pakista, KFC Pakistan representative, Abbas Mehdi, said they'll announce it soon on their Facebook page.

Game of Thrones-themed café opens in Islamabad

Here's what people thought of the chizza:


I need to go to Singapore again!!! Look at that crust!!! & toppings!!! I'm salivating!!! 🤤🍗🍕 #kfcchizza #ultimatemashup #kfc #foodporn #sex pic.twitter.com/NDcNheaqHY

— Cherry Me (@cherryyuuu) February 8, 2017
Why am I just now discovering this? #chizza pre gym Carbo load #kfc #portmanteau pic.twitter.com/3twPGnanSb

— Price Blythe (@pdxblythe69) January 27, 2017
Pizza + Chicken = Chizza @KFC_UKI you legends!!! #chizza #KFC #KFCchizza pic.twitter.com/a9ajk93U83

— FrogDudeTV 🐸 (@FrogDudeTV) February 7, 2017
This is cheating #KFC #Chizza cheat-za @kfc 😏 #kfcsingapore pic.twitter.com/lZ2Z2eIG2Q

— Kousik Karthikeyan (@kousik23) February 10, 2017


https://twitter.com/Eric__Sim/status/829915277219409920
COMMENTS (5)
Comments are moderated and generally will be posted if they are on-topic and not abusive.
For more information, please see our Comments FAQ