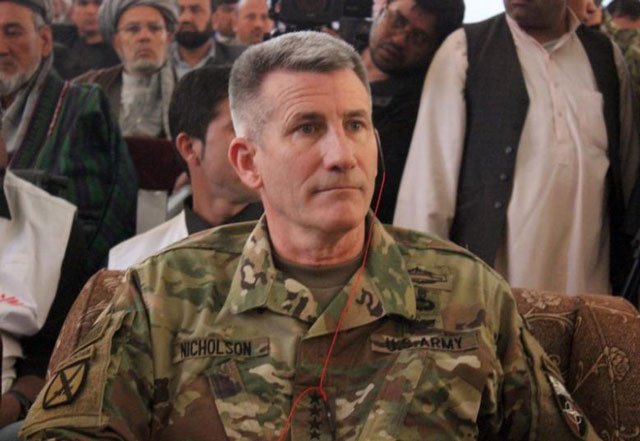 ---
KABUL: The Afghan Defence Ministry welcomed on Friday suggestions by the commander of international forces in Afghanistan that more troops were needed to train Afghan security forces, who are battling to hold back a growing Taliban-led insurgency.

General John Nicholson, the commander of US and international troops in Afghanistan, told the Senate Armed Services Committee in Washington on Thursday he did not have enough troops to adequately advise Afghan forces on the ground.

Nicholson told lawmakers the Nato-led force in Afghanistan had enough troops to carry out counterterrorism missions but had "a shortfall of a few thousand" for its major role of advising Afghan security forces.

His comments came just as US President Donald Trump and his Afghan counterpart Ashraf Ghani spoke by phone for the first time since Trump's inauguration last month. The two leaders discussed security, counterterrorism cooperation and economic development, officials said.

Afghan government controls less than 60 percent of country: watchdog

Afghan defence ministry spokesperson Dawlat Waziri said more international troops would be a "good step" towards countering militant groups in Afghanistan. "The Afghan defence ministry supports any decision taken between the Afghan and American governments," he said. "This is a joint battle against terrorism and we support any possible way to tackle terrorism in the country."

The focus of the Nato-led mission in Afghanistan has narrowed considerably to training Afghan forces and conducting counterterrorism missions since a significant drawdown under former US President Barack Obama.

About 8,400 US troops remain in Afghanistan, well down from their peak of about 100,000 in 2011. Waziri said the Afghan military had asked the US government for more equipment and training for its security forces.

The Taliban, who have made some of their most significant gains since they were ousted by US-led Afghan forces in late 2001, dismissed the idea that more foreign troops could make a difference. "This is nothing more than a dream," Taliban spokesperson Zabihullah Mujahid told Reuters. "We have experienced large numbers of invader forces in our country. This will be nothing more than suffering and more casualties."

Nato allies and other international partners also provide military advisers for the mission. Nicholson said extra forces need not all come from the United States and could also be drawn from its allies. Any final decision on troop levels would be made by Trump, who has not made any major policy announcements on Afghanistan but has signaled he would be open to the idea of more troops if the military determined they were needed.
COMMENTS
Comments are moderated and generally will be posted if they are on-topic and not abusive.
For more information, please see our Comments FAQ