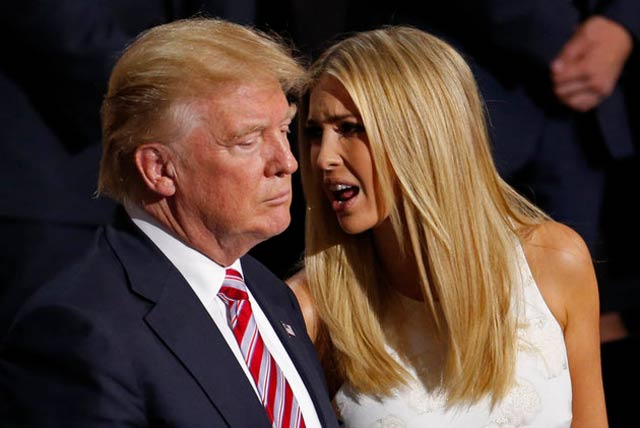 ---
WASHINGTON: A key aide to Donald Trump was facing possible investigation Thursday after pitching the clothing line of the president's daughter Ivanka on television, with top lawmakers from both camps denouncing a major ethics breach and urging "disciplinary action."

Speaking with the White House seal clearly visible over her shoulder, Kellyanne Conway gave Ivanka Trump's clothing a rave review during a Fox interview early Thursday, urging shoppers to "go buy Ivanka's stuff."

"This is just a wonderful line," she said. "I own some of it. I fully - I'm going to give a free commercial here. Go buy it today, everybody. You can find it online."

Major US stores drop Ivanka Trump products

Conway was clearly channeling the anger expressed a day earlier by the president himself, when he tweeted that Ivanka had been "treated so unfairly" by Nordstrom, an upscale department store chain that dropped her fashion brand.

But to Washington traditionalists, Conway's direct pitch from the White House for a product line sold by the president's child seemed a jaw-dropping - and possibly illegal - misuse of presidential prestige.

Democrat Elijah Cummings and Republican Jason Chaffetz - both lawmakers on the Committee on Oversight and Government Reform, which Chaffetz chairs - led calls for Conway to face rebuke.

"Conway's statements clearly violate the ethical principles for federal employees and are unacceptable," the congressmen said in a letter to the federal ethics chief, Walter Shaub, requesting that he recommend "appropriate disciplinary action" against her.

"What she did was wrong, wrong, wrong," said Chaffetz on Twitter.

The Office of Government Ethics, which Shaub heads, separately said it had been "receiving an extraordinary volume of contacts from citizens about recent events."

Without mentioning Conway by name, it said it was reaching out to the appropriate government agencies who would decide whether to pursue the matter - the established protocol when the OGE learns of "possible ethics violations."

Trump rebuke in daughter's name blurs business, politics lines

Conway said the Trump team was "aware" of the lawmakers' letter and was "reviewing that internally."

She also told Fox News she had spoken with the president about the incident and that he "supports me 100 percent."

"All I can say, at some point in your life, you ought to have a boss who treated me the way that the president is treating me today."

White House press secretary Sean Spicer said Trump's aide had been "counseled" over the issue, without providing more detail.

"Kellyanne Conway's White House Infomercial," as it was dubbed in a scathing New York Times editorial, again fanned debate over the unprecedented level to which the new president - despite his protestations to the contrary - has mixed politics, business and family, raising questions about conflicts of interest.

For Noah Bookbinder, executive director of Citizens for Responsibility and Ethics in Washington, a watchdog group which filed a separate complaint, "the law is clear" on such matters.

"This is just another example of what looks like a disturbing pattern of this administration acting to benefit the businesses of the president's family and supporters."

Since his election in November, Trump has targeted a series of American multinationals by name (General Motors, Ford, Boeing, Lockheed and others) for moving production overseas or for allegedly overcharging the government.

But his tweet targeting Nordstrom marked the first time he had complained directly about the business interests of one of his adult children. The tweet appeared both on Trump's personal account and on that of the presidency, @POTUS.

Trump's White House: Five takeaways from Wednesday

The Nordstrom group, with 350 stores in the United States and Canada, has repeatedly denied any political motive to its dropping of Ivanka Trump's clothing line, saying it was motivated purely by "performance" considerations. Sales had fallen, particularly in last year's second half.

But products carrying a Trump brand, including Ivanka's, have been boycotted by critics of the new president, leading to his complaint of a political motivation behind Nordstrom's move.

TJX Companies, which operates the clothing store chains TJ Maxx and Marshalls, told AFP on Thursday it had instructed store employees no longer to display Ivanka Trump products separately.

"The communication we sent to TJ Maxx and Marshalls in the US instructed stores to mix this line of merchandise into our racks, not to remove it from the sales floor," a spokesperson told AFP.
COMMENTS
Comments are moderated and generally will be posted if they are on-topic and not abusive.
For more information, please see our Comments FAQ