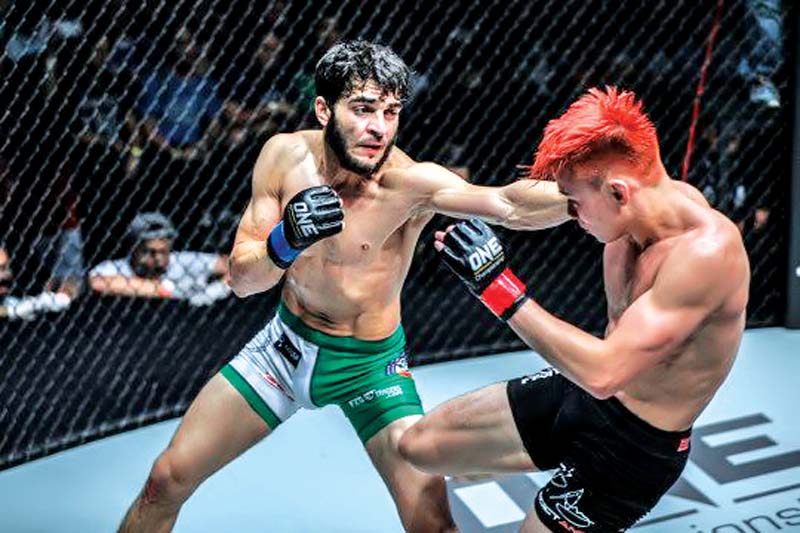 ---
KARACHI: Mixed Martial Arts' (MMA) rising star Ahmed Mujtaba will not have revenge on his mind when he squares up to Malaysia's Keanu Subba on Friday in Malaysia on the ONE Championship: Throne of Tigers' main card.

Last September at Kuala Lumpur's Stadium Negara, Subba defeated Synergy's Waqar Umar in the opening round of their bout, dealing a rare setback to Pakistan's nascent cagefighting community that had otherwise seen a stellar 2016.


Pakistan MMA star Ahmed Mujtaba's next opponent revealed


Fast forward five months, Fight Fortress' Mujtaba has a chance of exacting revenge for his compatriot's embarrassment at the hands of Subba; the Wolverine will pass on the retribution though.

His coach Ehtisham Karim feels revenge is hogwash and a meaningless distraction. He wants his prized protégé to keep his eyes on bigger prize. To him, Friday's fight is simply about scoring a win, not settling scores.

He sees Subba as just another stepping-stone for Mujtaba to beef up his résumé and climb up ONE FC's stacked featherweight division.

"Revenge? Nope," Ehtisham, one-third of Islamabad's famous Karim Bros, told The Express Tribune. "We're here to fight [Subba] because ONE FC put him in front of us. This is bigger than a mere revenge. We're here to compete at the highest level in the division."


I will only fight for Pakistan, says MMA star Ahmed Mujtaba


While Mujtaba (8-0) does have grand plans, it doesn't mean he is already looking past Subba (4-2). In fact, Ehtisham said Mujtaba has been put through even more rigorous training than before.

"Training this time was more technical and intense," recalled Ehtisham. "We've even covered areas we couldn't go through the last time. We believe we have the edge on the ground as well as on the stand-up. Let's see what Subba has up his sleeve for us."

When asked for a prediction for the fight, Ehtisham simply responded with: "Pain!"

Perhaps, it was his way of telling what Subba should expect once locked in the cage for 15 minutes with Mujtaba.


What MMA needs to do to succeed in Pakistan


His fellow MMA pioneer Bashir Ahmad had a straightforward opinion, saying: "I have a feeling Mujtaba will win this one."

At the same time, Bashir—who has firsthand experience of Subba's skills, having personally trained with him—was quick to remind Mujtaba that he should be wary of the Malaysian's threat.

"Subba is tougher and grittier than Benedict Ang [Mujtaba's last opponent]," said Bashir. "And if Mujtaba didn't put in the hard work for this fight, he's in trouble."

Meanwhile, the main event of ONE: Throne Of Tigers fight card will be a lightweight bout between another Malaysian Ev "ET" Ting and Iran's former Ultimate Fighting Championship veteran Kamal Shalorus, whose résumé has bouts against world-renowned fighters such as Khabib Nurmagomedov and Rafael dos Anjos.

ONE Championship: Throne of Tigers will commence at 1730 (PST) and be available for purchase on pay-per-view on ONEFC.com.