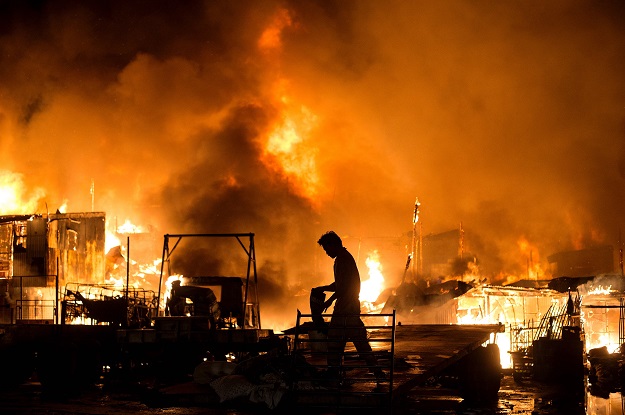 ---
MANILA:
As many as 15,000 people are homeless after a huge fire engulfed an overcrowded slum in Manila, destroying thousands of homes and sending residents fleeing with their few possessions.
At least 14 killed, 59 injured in Gadani shipbreaking yard fire
The inferno started in a sprawling slum near the port late on Tuesday and raged for about 10 hours, as hundreds of firefighters from across the Philippine capital hauled their hoses across rickety, tin roofs to reach the flames.
As the blaze whipped across the squalid area, sending a huge plume of smoke billowing into the night sky, residents ran for their lives carrying refrigerators, religious icons and other valuables. Others, desperate to save their homes, used buckets of water to douse the fire.
About 3,200 homes, many made from little more than scrap wood, were destroyed and four people were injured, Edilberto Cruz, a fire investigator looking into the cause of blaze, told reporters on Wednesday.
"The houses in that place are all made of light materials. That is why the fire was quick to spread. We are just lucky that no one was killed," he said.
Manila city government officials told AFP that between 9,000 and 15,000 people from the area, which is hit by fires almost every year, were left homeless.
At daylight thousands of people gathered on surrounding streets, warily guarding the belongings they had managed to salvage in the chaos while they waited for food and other aid to arrive.
Temporary evacuation centres have been set up at nearby gyms and schools. The Manila fire department said such fires were common in the city's densely populated slums where many residents still use candles to light their homes.
Fire breaks out at Lahore fast food outlet
Nearly a quarter of Manila's 13 million residents live in slums due to poverty and a shortage of low-cost housing, studies have found.
COMMENTS
Comments are moderated and generally will be posted if they are on-topic and not abusive.
For more information, please see our Comments FAQ