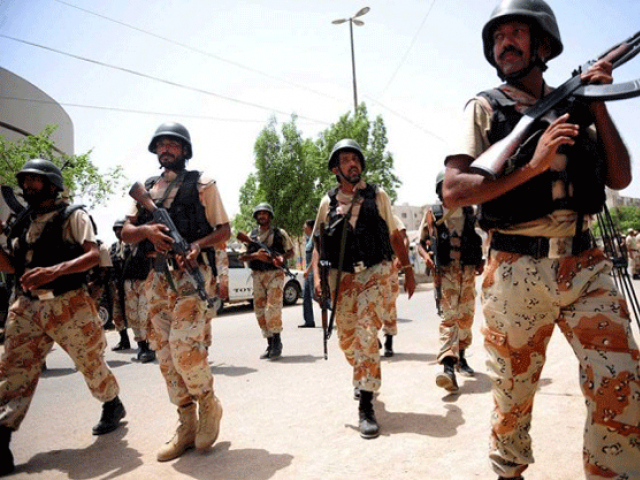 ---
KARACHI: The police force is running on the 'crutches and canes' of Rangers. How long will we be depending on them?

Sindh IG Allah Dino Khawaja raised these concerns while addressing the business community at the Karachi Chamber of Commerce and Industries on Tuesday.

In a candid talk, he said that people involved in the targeted killings of police officers are sitting in assemblies and power corridors. "Lots of policemen who were part of the Karachi operation in the late 1990s have been killed," he said. "Given this situation, the police personnel were unwilling to wear their uniform out of fear."  He said that it was the police that has always taken the action and faced the tough situation. "Can we reconsider why the police needed Rangers' help?" he said. "This all is because of politicisation of the police."

He stressed that the police should be independent, succumb to no political pressure and deal with all criminal and terrorist activities. He added that the government institutions and police don't live up to their actual duties, which is why the situation takes an ugly turn. "For the first time, 4,000 policemen have been appointed on merit and are being trained under the supervision of army," he said.

The IG added that the Police Act 1861 was not effective in dealing with crimes of the 21st century. Hence, he said, this more than 150 years old act has to be replaced with a new police law that ensures operational and administrative independence of the police department.

He demanded that the 'obsolete Police Act 1861' be replaced with a new one that focuses on transformation from 'police force' to 'police services'.

Khawaja further said that all the police stations across Karachi were currently being equipped with a reasonable reporting room to facilitate the public, which will be completed by June this year.

Published in The Express Tribune, February 8th, 2017.
COMMENTS
Comments are moderated and generally will be posted if they are on-topic and not abusive.
For more information, please see our Comments FAQ