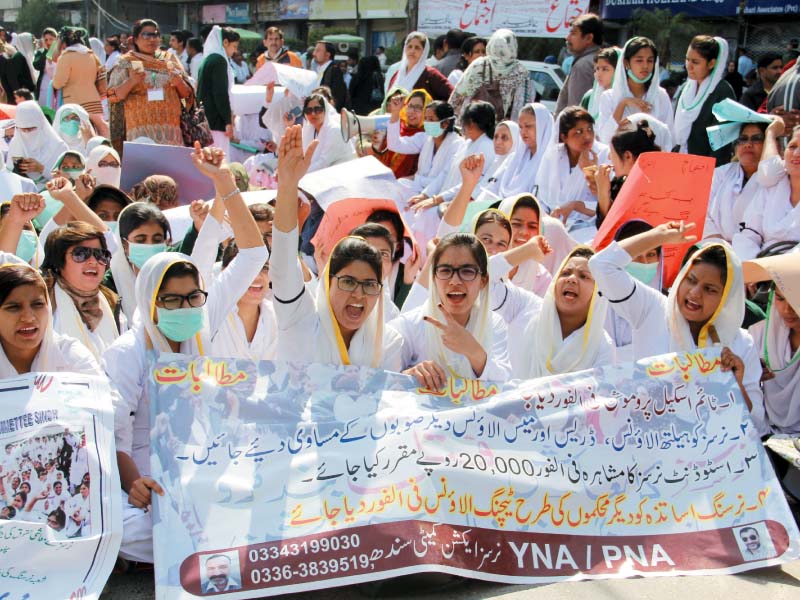 ---
KARACHI: Starting Tuesday, most nursing staff from nearly all public hospitals in Karachi boycotted their duties and have taken to the streets in protest.

"We want the health department officials to address our democratic, legal and genuine demands and resolve our issues for the betterment of the patients," said Young Nurses Association president Aijaz Kaleri. Members of the Provincial Nurses Association (PNA) also joined the protest outside Karachi Press Club.

The nursing staff will no longer tolerate the discrimination they have been facing for the last 30 years, said Kaleri, addressing the hundreds of nurses, many of whom had travelled from other districts in the province.

We need a raise in the allowance for dress, food, health and it should be brought to the same level as other provinces, he said. "Punjab pays its nursing staff Rs30,000 for this allowance while we have been getting only Rs900 in Sindh," he told The Express Tribune.

The upgradation of administrative posts must be done in accordance with other provinces from grade 16 to grade 18, he demanded. "The joint action committee of nursing staff has given three reminders in writing to the higher officials but all in vain," he claimed.

Kaleri pointed out that, in the last one-and-a-half year, they have put their issues before five different health secretaries but no one seems interested in resolving their problems. "We will stay here as long as our demands are not met and, if need be, we can continue our sit-in for the coming 10 days," he warned.

Meanwhile, PNA president Ghulam Dastagir demanded the reappointment of 17 suspended principals of nursing schools and that they should be given the powers to appoint and suspend officers. Dastagir also demanded a time-pay-scale promotion of nursing staff and also demanded the government issues appointment letters of 447 candidates, who have been given offer letters some six months ago.

"We have been inducted in grade 16 and most of the nursing staff is close to their retirement but have not received a single promotion," claimed said a nurse from Sanghar.

Imran Ali, a nursing student from Lyari General Hospital, added that the stipend for nursing students in other provinces is Rs20,000 whereas Sindh pays only Rs6,800. "We know that patients are going to suffer since we have been protesting but that's the only way to get our voices heard by senior officials," he said.

"No hospital can run without us since we are the backbone of the healthcare but no senior government official is interested in listening to our issues," said Naseema, who works at Abbasi Shaheed Hospital.

Failed negotiations

Additional health secretary Aslam Pechuho tried to negotiate with the protest leaders but they refused by saying that they will only present their demands before a secretary-level official.

Talking to The Express Tribune, Pechuho claimed the nursing staff is not interested in resolving their issues as they don't want to present their issues before the secretary. "If any patient suffers [as a result of this protest] then the FIR will be registered against the protest leaders," he warned. He added, however, that the health department is more than happy to address genuine issues.

Health secretary Dr Fazlullah Pechuho told The Express Tribune that the department welcomes the nursing staff to present their issues but they did not seem interested. "We are already in the process of making a robust service structure for the nursing professionals in the province," he said.

"The issues cannot be resolved through the agitation, whereas if the leaders of the nursing staff want to put their issues before me, my office doors are open for them and I assure that their genuine issues will be resolved," he said.

Published in The Express Tribune, February 8th, 2017.
COMMENTS
Comments are moderated and generally will be posted if they are on-topic and not abusive.
For more information, please see our Comments FAQ