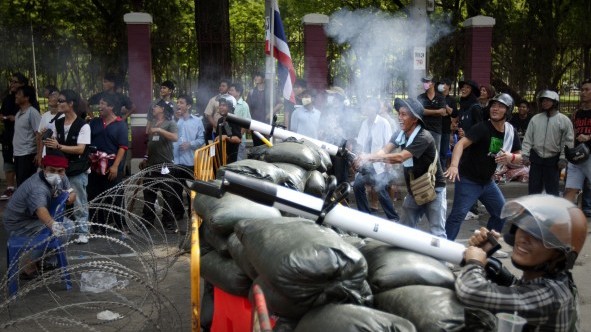 ---
BANGKOK: Thai troops fired tear gas and rubber bullets towards protesters on Friday following overnight fighting that killed one and wounded 11, including a rogue general, as a two-month political crisis deepened.

A foreign journalist was shot during the afternoon skirmishes, a Reuters witness said. No other details were immediately available.

The protesters had gathered outside the famous Suan Lum night market to stop soldiers from sealing off roads around their main fortified encampment in Bangkok's commercial heart.

They set fire to a bus, motorbike and tyres as they retreated, and soldiers took control of an intersection leading to a road lined with hotels, the U.S. ambassador's home and several embassies, which were closed and evacuated.

Troops fired rubber bullets into Lumphini Park in central Bangkok after gunshots were heard near an encampment that anti-government protesters have occupied the past five weeks, Thailand television said.

Soldiers used tear gas and water cannon before dawn at the Nana intersection, packed with shops and racy go-go bars. Skirmishes flared in other parts of the city as the protesters remained defiant, vowing to fight to the death.

"They are tightening a noose on us but we will fight to the end, brothers and sisters," a protest leader, Nattawut Saikua, told a cheering crowd of about 10,000 at the main protest site.

Despite repeated warnings, troops had yet to seal all roads leading to the area of luxury hotels and ritzy department stores occupied by protesters for nearly six weeks, raising questions over whether the government will end the protests soon.

"An operation to seal off the area has just begun. It will take time. We are doing it in a way that does not cause heavy casualties but tightens the protest area," said government spokesman Panitan Wattanayagorn.

The crisis, in which 30 people have been killed since April and more than 1,400 wounded, has paralysed parts of Bangkok and sparked Thailand's deadliest political violence in 18 years, decimating tourism and pushing away foreign portfolio investors.

The flare up in violence sent ripples through financial markets and prompted investors to buy government bonds, considered a safe-haven asset, and sell stocks.

The yield on five-year government bonds, which moves inversely to the price, dropped to a nine-month low. Stocks fell 1.2 percent. Five-year credit default swaps, used to hedge against debt default but also to speculate on country risk, jumped by more than 30 basis points to 142 basis points.

"The city is pretty much shut off right now. Everyone is on edge and tensions are just very high," said Kiatkong Decho, a strategist with stockbroker CIMB Securities in Bangkok.

"At this point, I think there are not many options left for Abhisit but to forcibly remove the protesters." Foreign investors have sold $584 million in Thai shares in the past six sessions, cutting their net buying so far this year to $607.6 million in an emerging market seen at the start of the year as one of Asia's most promising.

Crackdown

The latest violence followed tough security measures imposed on Thursday evening to reclaim Bangkok's commercial district after the collapse of a reconciliation plan proposed last week by Prime Minister Abhisit Vejjajiva.

Abhisit is under enormous pressure to end the protests, which began with festive rallies on March 12 and descended into violence that is stoking concerns over the outlook of Southeast Asia's second-biggest economy.

The shooting and a security cordon marked the start of a violent crackdown in which the Thai government stands a good chance of clearing the streets, the Eurasia Group political risk consultancy said.

"But it will not end the polarisation that has led to the current instability -- ensuring that the pressure from the red shirts will persist and that political volatility will remain a persistent problem for Thailand for the forseeable future".

It is unclear who shot a renegade general who has been in charge of security for thousands of protesters occupying a 3 sq-km (1.2 sq-mile) stretch of central Bangkok since April 3. Khattiya Sawasdipol, a suspended army specialist better known as "Seh Daeng" (Commander Red), was shot in the head, apparently by a sniper, while talking to reporters on Thursday evening.

He underwent brain surgery and remains in stable condition. The shooting sparked half a dozen confrontations overnight between rock-throwing protesters and armed security forces on the outskirts of the protesters' barricaded encampment.

One protester was shot in the eye and died after a group of red shirts confronted soldiers armed with assault rifles next to a park in the Silom business district, witnesses said. Some protesters hurled rocks and troops fired in return.

Most businesses and embassies in the area have evacuated staff and were closed for the day. Apartment complexes were mostly empty after the government warned it would shut down power and water supplies, and landlords urged tenants to leave.
COMMENTS
Comments are moderated and generally will be posted if they are on-topic and not abusive.
For more information, please see our Comments FAQ