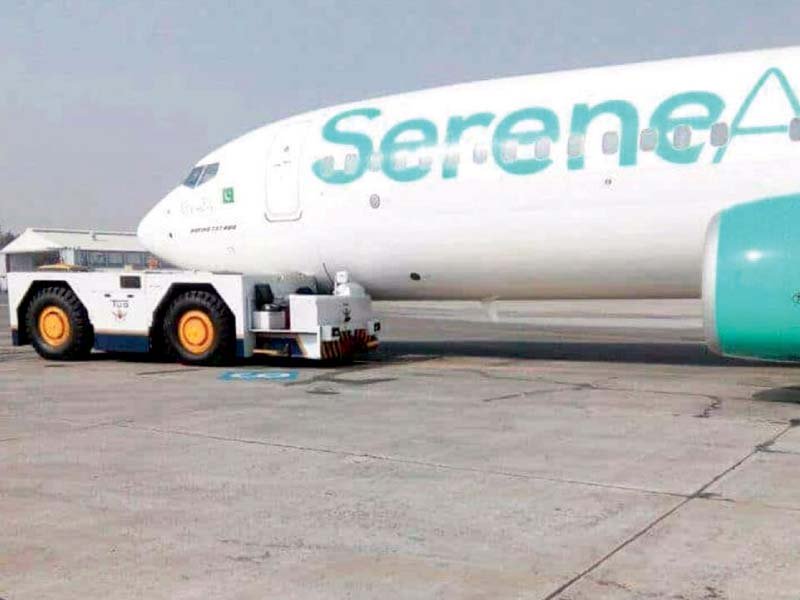 ---
RAWALPINDI: An errant pushback tug rammed into a waiting plane at the Benazir Bhutto International Airport on Monday, damaging the aircraft and rendering it unfit for flying.

An official of Civil Aviation Authority (CAA) said that Serene Air flight ER-500 had landed at the airport from Karachi at around 10am.

Soon after, a pushback tug which was coming to take the brand-new Boeing 737-800 to the parking bay rammed into the aircraft's hull. It was still unclear what the cause of the accident was at the time this report was filed.

Serene Air jet grounded after accident at Islamabad airport

The CAA official added that initial reports suggested that the aircraft was damaged from the front, near its landing gear. He added that the aircraft may not be able to fly until repairs are made.

The tug was operated by Royal Airport Services and the shift on duty was reportedly suspended after the accident.

CAA Spokesperson Fariha Shah said the authority would hold an inquiry into the accident. She added that the CAA, as a regulator, had a duty to establish the reason of the accident.

Meanwhile, a Serene Air spokesperson confirmed the incident and added that its flight schedule would undergo a partial disruption.

"A few of the immediate flights have been cancelled due to the incident," the spokesperson said.

"It may take around a week to repair the damaged section of the plane and bring it back into service," he said.

PIA rubbishes reports of technical fault in international flight

The aircraft damaged on Monday morning is one of the three aircraft operated by the domestic airline, which started operations on January 29 after the CAA granted it a licence in October 2016.

"It [the damaged aircraft] is a brand new Boeing [737-800] which we acquired a few weeks ago at a cost of $50 million," the Serene Air spokesperson said.

The airline official, however, added that the two remaining aircraft are operational.

WITH ADDITIONAL INPUT FROM SALMAN SIDDIQUI IN KARACHI

Published in The Express Tribune, February 7th, 2017.
COMMENTS (4)
Comments are moderated and generally will be posted if they are on-topic and not abusive.
For more information, please see our Comments FAQ