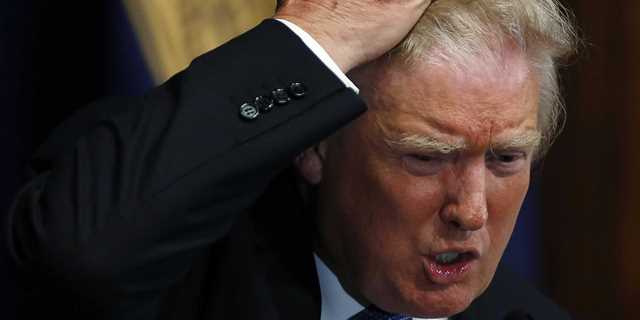 ---
WASHINGTON: The Trump administration's immigration order barring citizens from seven mainly Muslim countries and temporarily blocking refugees was in legal limbo on Sunday after an appeals court denied the Department of Justice's request to restore the ban.

The overnight ruling dealt a further setback to Trump, who has denounced the judge in Seattle who blocked his executive order on Friday. In tweets and comments to reporters, the president has insisted he will get the ban reinstated.

In a brief order, the San Francisco-based 9th US Circuit Court of Appeals said the government's request for an immediate administrative stay of the judge's ruling had been denied. It was awaiting further submissions from the states of Washington and Minnesota on Sunday, and from the government on Monday.

Trump says the 90-day travel ban on citizens from Iran, Iraq, Libya, Somalia, Sudan, Syria and Yemen, and a 120-day bar on all refugees, are necessary to protect the United States from militants. Critics say the measures are unjustified and discriminatory.

The legal uncertainty over the ban has created what may be a short-lived opportunity for travellers from the seven affected countries to get into the United States.

Reacting to the latest court ruling, Iraqi government spokesman Saad al Hadithi said: "It is a move in the right direction to solve the problems that it caused."

The US State Department and Department of Homeland Security said they were complying with Seattle Judge James Robart's order and many visitors were expected to start arriving on Sunday, while the government said it expects to begin admitting refugees again on Monday (today).

A spokesman for the International Organisation for Migration, Leonard Doyle, confirmed on Sunday that about 2,000 refugees are ready to travel to the United States. "We expect a small number of refugees to arrive in the US on Monday. They are mainly from Jordan and include people fleeing war and persecution in Syria," he said in an email.

An official at Beirut airport said three Syrian families had left for the United States via Europe on Sunday morning. Airline sources in Cairo said that 33 people from the seven countries affected by the ban had been allowed to board US-bound flights since Saturday.

Kuwait denies it imposed travel ban

Kuwait has denied a media report which said it had imposed a travel ban on citizens from several Muslim-majority countries, a story which US President Donald Trump praised on Facebook.

"Smart!" a post on Trump's official Facebook page said on Thursday, linking to a report on Jordanian news website Al Bawaba.

The article alleged that "Syrians, Iraqis, Iranians, Pakistanis and Afghans" would not be allowed to enter the Gulf state "while the blanket ban is in place."

But Kuwait's foreign ministry refuted the report. "Kuwait categorically denies these claims and affirms that these reported nationalities ... have big communities in Kuwait and enjoy full rights," a ministry spokesman was quoted as saying on state news agency KUNA on Friday.

Published in The Express Tribune, February 6th, 2017.

 
COMMENTS
Comments are moderated and generally will be posted if they are on-topic and not abusive.
For more information, please see our Comments FAQ