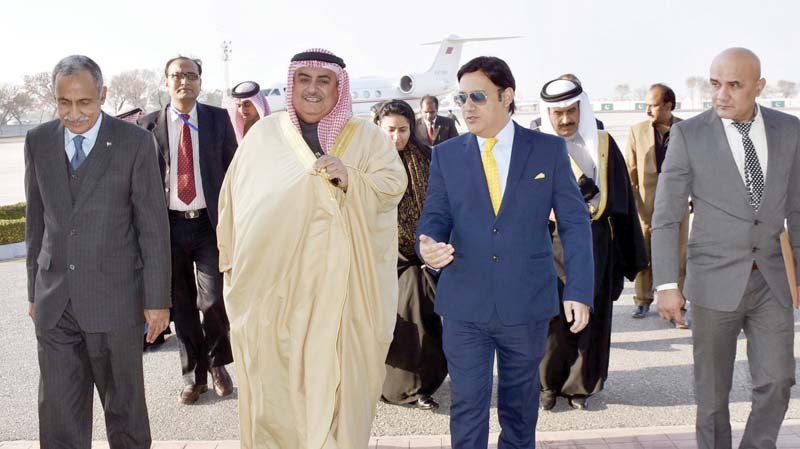 ---
Bahrain's Foreign Minister Shaikh Khalid Bin Ahmed Mohammed Al-Khalifa has said his country's relations with Pakistan reflected a 'consistently strong bond of friendship' which was devoid of any 'irritant' or 'divergence' of interests on important issues.

The foreign minister said this during a meeting with Adviser to PM on Foreign Affairs Sartaj Aziz who briefed the visiting Bahraini side on Pakistan's achievements in decisively subduing the menace of terrorism through its successful Operation Zarb-e-Azb on Sunday.

"Bahrain highly appreciates and expresses great satisfaction over the notable success Pakistan has achieved in defeating the scourge of terrorism which has contributed to regional peace and stability," the Bahraini foreign minister said.

Al-Khalifa is leading the delegation to attend the two-day first Bahrain-Pakistan Joint Ministerial Session that will open on Monday.

"Bahrain remains eager to strengthen the already strong Pakistan-GCC relations even further," he said, adding, "Bahrain – currently holding the chair of the GCC – will make serious efforts to reinforce this important relationship, for the benefit of all sides in the region."

Aziz informed the Bahraini delegation that stability achieved by Pakistan would immensely contribute in 'crystallising an environment of peace, prosperity and economic development' in the region.

Both the leaders exchanged views on the possibilities of improving bilateral economic cooperation and highlighted that regular business-to-business interactions were the key in this regard.

Speaking on the occasion, Aziz highlighted that the ministerial commission would serve as a regular platform to discuss cooperation in all areas of mutual interest.

He expressed gratitude to the king of Bahrain for facilitating the convening of the first Pakistan-Bahrain Business Opportunity Conference in Manama, in September 2016.

Underscoring the substantial potential on both sides, the adviser said: "The warm political relations between Pakistan and Bahrain are the foundation upon which to strengthen cooperation in economic and trade sectors."

He said that the current investment policy of Pakistan had created an investment friendly environment, guaranteeing equal treatment of foreign and domestic investors.

Aziz invited Bahraini businessmen to invest in Pakistan, especially in the energy, infrastructure and agriculture sectors, urging them to take advantage of lucrative incentives offered by Pakistan for foreign investors.

While briefing the Bahraini side on CPEC project, the adviser said: "CPEC, including its Gwadar Port project, has emerged as a remarkable means to enhance the economic depth of regional countries."

He assured the visiting dignitary that Pakistan remained ready to connect various surrounding regions for a win-win outcome for all.

Published in The Express Tribune, February 6th, 2017.
COMMENTS
Comments are moderated and generally will be posted if they are on-topic and not abusive.
For more information, please see our Comments FAQ