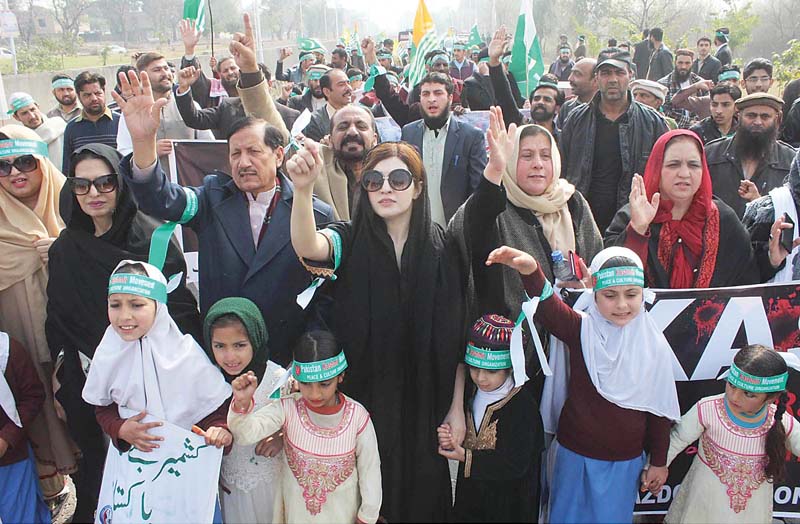 ---
MUZAFFARABAD: People in Azad Jammu and Kashmir on Sunday formed human chains as they renewed their pledge to support the ongoing movement for the right to self-determination of people in Indian Occupied Kashmir (IOK).

The same resolve was also expressed by people in Islamabad, Rawalpindi, Hazara division and Gilgit-Baltistan where Kashmir Solidarity day was marked with traditional enthusiasm.

In AJK, human chains were formed at the main entry points of Kohala, Azad Pattan, Holard, Bararkot and Mangla Bridge which link AJK with the rest of Pakistan.

Punjab Minister of Human Resource Raja Ishfaq, Khyber-Pakhtunkhwa Food Minister Qalandar Khan Lodhi, Adviser to Chief Minister Balochistan Muhammad Khan Lahri and AJK Forest Minister Mir Akbar joined locals, workers of political and religious parties and students joined the chain at Kohala.

At Bararkot, the border between Mansehra and AJK, Federal Minister for Religious Affairs Sardar Yousuf and AJK minister Iftikhar Gilani joined others in forming a human chain from both sides to express their solidarity with Kashmiris. People carried banners and placards inscribed with the slogans such as "Kashmir is bleeding, we support Kashmiris right of self-determination and "Go India, Go Back".

In Muzaffarabad, hundreds of school children marched in unison from Geelani Chowk to Central Press Club (CPC) to express solidarity with their brethren in IoK. Jamaat-e-Islami's AJK chapter also took out a rally from District Courts to Burhan Wani Chowk in the city.

Separately, dozens of rallies were taken out in Bagh, Rawalakot with participants carrying Pakistani and AJK flags while vociferously chanting pro-freedom and anti-India slogans.

"We will never leave you alone and continue our best efforts to highlight your voices at each and every forum of the world till you get the right to self-determination," said AJK President Sardar Muhammad Masood Khan while addressing a special joint sitting of AJK Legislative Assembly and Kashmir Council.

He said people in IOK were the most vulnerable to Indian atrocities as hundreds had been blinded, while thousands were missing following uncountable crimes against innocent people.

 Rallies in twin cities

Religious and political parties along with people from different walks of life held rallies, seminars and even tabelaus in the twin cities to mark Kashmir Solidarity Day and pledged their support to the people of Jammu and Kashmir in their struggle for right of self-determination.

In Islamabad, the largest rally was held by the Jamaatud Dawa outside the National Press Club. The rally also saw significant participation from other political and religious parties including Iamiat Ulema-e-Islam-Fazl, Pakistan Muslim League-Quaid, Jamiat Ulema-e-Islam (Samiul Haq), Nazaria-e-Pakistan Council, Jamiat Ahle Hadith Pakistan and Difa-e-Pakistan Council.

The participants criticised the incumbent Pakistan Muslim League-Nawaz government for its policies on Kashmir for placing JuD chief Hafiz Saeed under house arrest.

JUI-F Senator Maulana Attaur Rehman said that India was killing Kashmiris in violation of UN resolutions. He added that the Difa-e-Pakistan Council had announced to observe ten days of solidarity with Kashmiri people from January 26 to February 8.

Senator Rehman further said that they were not against a political solution to the dispute and that dialogues must continue at every forum.

Separately, rallies were also organised by the Kashmir Youth Forum, which saw participation by the Hurriyat Conference and Pakistan Tehreek-e-Insaf, among others.

In Rawalpindi, traders associations took out rallies on Benazir Bhutto Road and in Raja Bazaar to express solidary with people of Kashmir. Jamaat-e-Islami activists staged a public rally outside Rawalpindi Press Club near Liaquat Bagh.

The administration of the Rawalpindi Arts Council arranged a tableau competition among children of different schools to highlight the plight of Kashmiri people.

Hazara Division

Like in other parts of the country, rallies and special programmes were held across Hazara Division on Sunday to mark Kashmir Solidarity Day.

In Mansehra city, political and religious parties such as PTI, PML-N, JI, JUI-F, PPP, JuD, and Ahle Sunnat Wal Jamaat, took out rallies from different parts of the city and gathered at Markazi Chowk where speakers urged the government to declare a 'jihad' to liberate Kashmir.

Functions were also held in Battagram, and Haripur.

Gilgit-Baltistan

In G-B, several rallies were organised to mark Kashmir Solidarity Day.In Gilgit, a rally was organised from Ghari Bagh to Ittehad Chowk in which government officials, students and people from other walks of life participated.

Special events were held in In Chilas, Astore and Skardu and Hunza-Nagar.

WITH ADDITIONAL INPUT FROM OUR CORRESPONDENTS IN ISLAMABAD, RAWALPINDI, ABBOTTABAD and GILGIT

Published in The Express Tribune, February 6th, 2017.
COMMENTS
Comments are moderated and generally will be posted if they are on-topic and not abusive.
For more information, please see our Comments FAQ