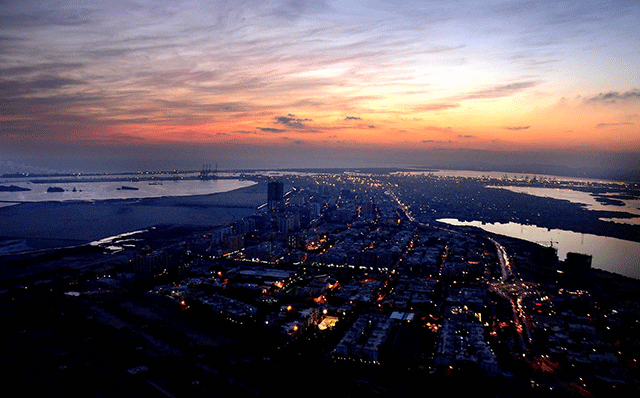 ---
LAHORE: A current account deficit manifests that a country is a net borrower of financial capital from the rest of the world. Developing economies have to carefully manage their current accounts to avoid a balance of payment crisis.

The recurrence of the crisis shows that the problems of the economy are of a structural nature in Pakistan. The current account deficit has swollen to $3.6 billion during July-December 2016, which is 1.2% of the GDP, while the multilateral donor projected that the deficit would reach 1.7% of the GDP in the full FY 2016. There are certain factors associated with this deficit.

Merchandise exports are continuously on the downhill since FY14. The factors which contribute to the decline of the exports are both global and domestic.

From Dubai back to Pakistan: the real estate investors' journey




On the global front, the developed economies are not growing at a desired pace since 2009.

The slow growth of these economies has started to hurt the exports of developing economies. The slow pace of economic growth resulted in lower growth in the global merchandise trade. On this basis, our exports are not getting proper outlet.

On the domestic front, the government is obsessed with a policy of stable exchange rate. This obsession has started to take a toll on the low value-added exports of Pakistan.

When exports are of low value addition, a careful depreciation of a rupee is required. The policy of stable exchange rate is not allowing this to happen.

Addressing the issue of  merchandise imports

The media is replete with the analysis that merchandise imports have increased due to the implementation of China-Pakistan Economic Corridor (CPEC) activities. This analysis is partly correct. However, the implementation of CPEC would have a long time horizon till 2030, though the investments started to pour in since early 2015, yet the impact on imports is far-fetched. The fact is that merchandise imports are hovering around $45 billion since 2011 due to economic stagnation in Pakistan, and the imports would remain around $48 billion in FY 2017. Usually, imports increases a great deal when economy grows, which is not happening in Pakistan.

Hyundai plans to set up assembly plant in Pakistan




The import composition shows that around 21% of the total imports during July-December 2016 went to petroleum products since Pakistan is a net importer of petroleum products.

When international crude oil prices were quite high, these products gobbled up a large share of 35 to 38 % of merchandise imports. Since international oil prices started to decline in 2014, the petroleum import bill follows that decline. Many media commentators were hoping that BOP would turn surplus in 2016 but that did not happen.

On the contrary, a shift in composition of imports took place. The machinery share of imports has increased to 24% during the latest six months as the machinery imports increased by 40% in value over the corresponding period. Statistics show that imports of power generating and construction machinery are increasing.

Specifically, imports of power generating machinery increased a great deal since expansion is going on in power plants under the umbrella of CPEC projects. Furthermore, industrialists are in the process of installing captive power plants since they want to protect themselves from the vagaries of load-shedding since the bad memories of long hours of light out are deeply ingrained.

Similarly, there is an increase in imports of construction machinery since the construction activities are going on at a decent pace in the country. The government's resolve to build and modernise the infrastructure by allocating a decent amount in the Public Sector Development Programme has played a pivotal role in this connection.

Corporate result: Stiff competition shaves 25% off Engro Foods' profit

In a nutshell, the Pakistani economy is constrained and it can grow at 5% under the current export structure. Any attempt to grow the economy beyond this level would increase the current account deficit a great deal.

The impact of CPEC on merchandise imports and current account would come in near future and management of current account would remain a big challenge for policy makers in years to come.

The writer is an Assistant Professor of Economics at SDSB, Lahore University of Management Sciences

 

Published in The Express Tribune, February 6th, 2017.

Like Business on Facebook, follow @TribuneBiz on Twitter to stay informed and join in the conversation.

 
COMMENTS (1)
Comments are moderated and generally will be posted if they are on-topic and not abusive.
For more information, please see our Comments FAQ