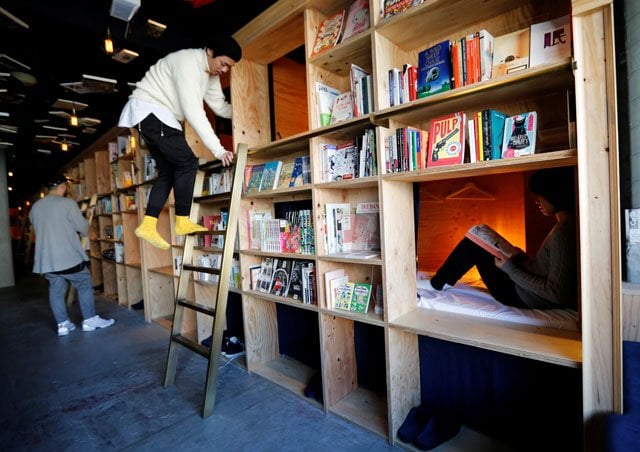 ---
TOKYO: A hotel in Japan is defying the digital books trend and appealing to guests who prefer to curl up with a traditional paper book.

Book and Bed Tokyo, a variation of Japan's famous capsule hotels, offers guests a closet-sized bunk embedded in rows of bookshelves. The walls, ceiling and most of the decor of the hotel are packed with 3,200 books in different languages.




A common room serves as a lounge for day visitors who can also come to share the experience of reading books together. "There are many visitors staying in one big space, so we can communicate and feel relaxed," said student Natsuki Suno, who was taking a break from her studies.

Punjab govt directs libraries to purchase PM Nawaz's biography




The hotel, which opened 18 months ago, has 60 cube rooms equipped with a mattress and reading lamp. Depending on the room, overnight rates range from 3,800 yen ($33) to 4,800 yen ($42). Daytime visitors can lounge in cushioned corners of the hotel for 500 yen an hour.




Kei Asai, chief executive of Book and Bed, said he wanted to offer something beyond the traditional capsule hotel. "The reason why I came up with this concept was that I wanted to stay in this kind of hotel where you can fall asleep while enjoying something fun," he said.