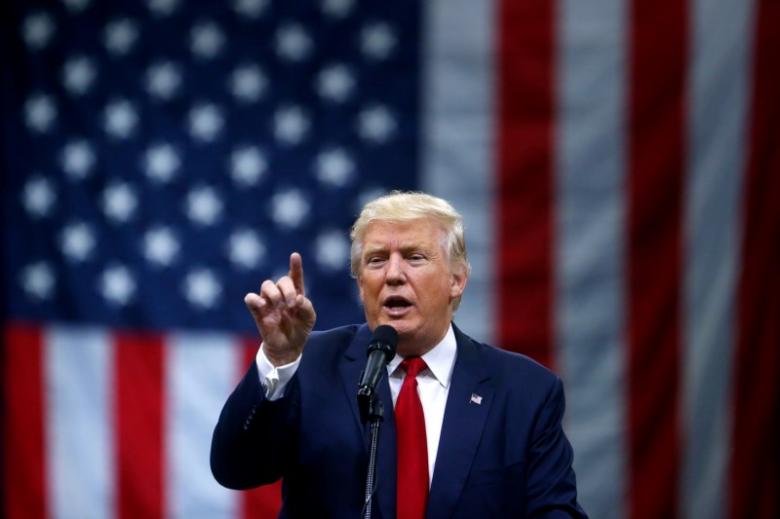 ---
WASHINGTON: US President Donald Trump lashed out Saturday at a court ruling suspending his controversial ban on travelers from seven Muslim countries, dismissing it as "ridiculous" and vowing to get it overturned.

The order blocking the ban, issued late Friday by Seattle US District Judge James Robart, is valid across the United States, pending a full review of a complaint filed by Washington state's attorney general.

The travel restrictions, which went into effect a week ago, have wreaked havoc at airports across America, sparked numerous protests and left countless people hoping to reach the United States in limbo.

'Trump's visa ban isn't as new as you think'

"The opinion of this so-called judge, which essentially takes law-enforcement away from our country, is ridiculous and will be overturned!" Trump wrote in a flurry of early morning tweets.


The opinion of this so-called judge, which essentially takes law-enforcement away from our country, is ridiculous and will be overturned!

— Donald J. Trump (@realDonaldTrump) February 4, 2017


"When a country is no longer able to say who can, and who cannot, come in & out, especially for reasons of safety &.security - big trouble!" Trump wrote, less than 12 hours after the ruling was issued in Seattle.

US judge deals severe legal blow to Trump travel ban

"Interesting that certain Middle-Eastern countries agree with the ban. They know if certain people are allowed in it's death & destruction!" said Trump, who was in Florida for the weekend.

The White House said in a statement late Friday that the Department of Justice would fight the court to defend the travel ban, "which we believe is lawful and appropriate."

"The president's order is intended to protect the homeland and he has the constitutional authority and responsibility to protect the American people," said the statement from White House spokesman Sean Spicer.

Trump's executive order blocks citizens of Iran, Iraq, Libya, Somalia, Sudan, Syria and Yemen from entry into the US for 90 days.

Syrian refugees are barred indefinitely, and refugees from other countries are barred from entry for 120 days.

Friday's ruling by the federal court in Seattle was not the first to challenge the travel ban, but it was the most sweeping as it effectively vacated the main tenets of the order.

Washington state's attorney general, Bob Ferguson, said the order technically means that anyone with a valid visa must be allowed entry into the country by Customs and Border Protection (CBP).

"The constitution prevailed today," Ferguson said, describing the judge's decision as historic. "No one is above the law -- not even the president."

"It is not the loudest voice that prevails in a courtroom, it's the constitution," he added, pointing out that Robart was appointed by Republican president George W. Bush.

The State Department said Friday that up to 60,000 people from the seven targeted countries had their visas canceled as a result of the order. A Justice Department attorney, however, told a court hearing in Virginia that about 100,000 visas had been revoked.