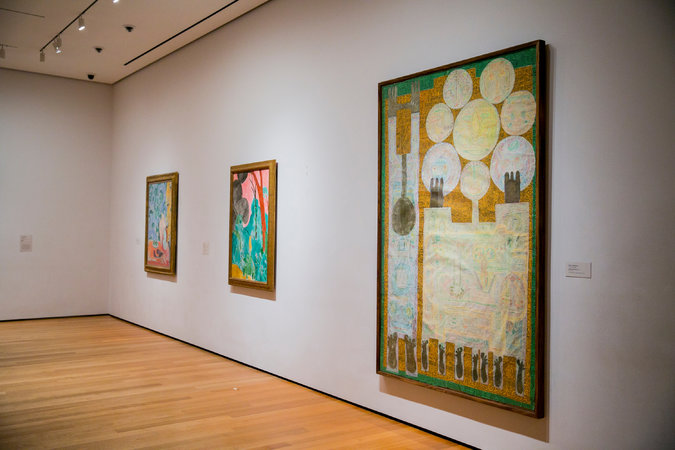 ---
NEW YORK: A famed New York art museum has joined the throng of protests against President Donald Trump's travel ban by replacing Western art with pieces by Iranian, Iraqi and Sudanese artists. The Museum of Modern Art said works by Sudanese painter Ibrahim el-Salahi, Iraqi-born architect Zaha Hadid and five artists with Iranian backgrounds replaced seven Western works, including those done by Picasso and Matisse.

The Republican president's explosive executive order came into effect last Friday, closing US borders to refugees for 120 days and visa holders from Iran, Iraq, Libya, Somalia, Sudan, Syria and Yemen for 90 days. Syrian refugees have been banned indefinitely.

The museum switched the artworks late Thursday in its fifth-floor galleries, which ordinarily are devoted to Western modernism before 1945. The changes were reported by The New York Times and confirmed by the museum.

Eminem returns with fiery track against Donald Trump

The five artists with Iranian backgrounds include Marcos Grigorian, the Los Angeles based video artist Tala Madani, photographer Shirana Shahbazi, sculptor Parviz Tanavoli and painter Charles Hossein Zenderoudi.

The museum also placed a large sculpture of aluminum and steel by Siah Armajani, a US artist who was born in Iran, in a lobby courtyard. The museum has scheduled screenings of films from people subject to the ban, including the Iraqi-born German director Kais al-Zubaidi and Oussama Mohammad, a Syrian film-maker living in France.

Founded in 1929, the museum is one of the world's premier modern art museums. A gateway for immigrants into America for centuries, New York has staged multiple protests since the travel ban came into effect last Friday.

Hollywood actor-turned-activist Shia LaBeouf has collaborated with two artists on a live-stream protest outside New York's Museum of the Moving Image, which he vows will continue for the duration of Trump's time in office.

Have something to add to the story? Share it in the comments below. 


COMMENTS
Comments are moderated and generally will be posted if they are on-topic and not abusive.
For more information, please see our Comments FAQ