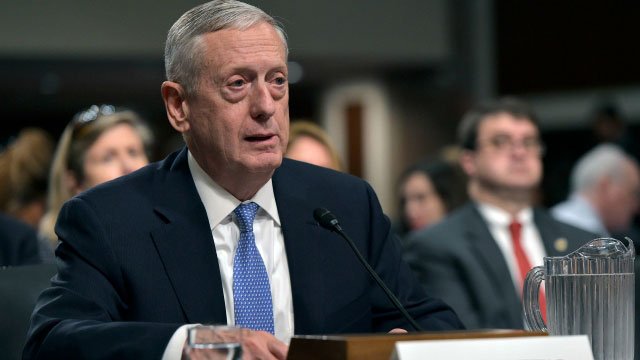 ---
TOKYO: China warned the US Saturday it was risking instability in Asia after President Donald Trump's new defence secretary vowed to back Japan in any military clash with Beijing over a disputed island chain.

The Senkaku Islands, known in China as the Diaoyus, are at the centre of a festering row between Tokyo and Beijing, which claims they have been part of Chinese territory for centuries.

Wrapping up a visit to the region Saturday, US Defence Secretary James Mattis said in Tokyo the islands were subject to a decades-old treaty between Washington and Tokyo.

"I made clear that our long-standing policy on the Senkaku Islands stands -- the US will continue to recognise Japanese administration of the islands," Mattis told a press conference.

"And as such Article 5 of the US-Japan Security Treaty applies."

Article 5 commits the United States to defend Japan or territories it administers against any attack.

China, which is also involved in a widening dispute with several Southeast Asian countries over islands in the South China Sea, accused Washington of stirring up trouble.

"We urge the US side to take a responsible attitude, stop making wrong remarks... and avoid making the issue more complicated and bringing instability to the regional situation", Foreign Ministry spokesman Lu Kang said, according to official news agency Xinhua.

Lu added the US-Japan treaty was a product of the Cold War, and should not affect China's territorial sovereignty, Xinhua reported.

Mattis arrived in Japan on Friday from South Korea. His visit to the region, the first overseas trip by a senior official from the Trump administration, was aimed at reassuring Washington's key East Asian allies about America's commitment to their security.

Trump's defense chief heads to Asia, eying China, North Korea threat

Concerns arose during the presidential campaign when Trump accused Tokyo and Seoul of not paying their fair share for US troops stationed in their countries, sparking concerns about the future of their security alliances with Washington.

But Mattis, during his meetings in both capitals, made clear that Washington was ready to answer any threats the US allies may face. In response to a question, Mattis called the defence cost sharing arrangement with Japan a "model".

"It is quite remarkable that Mattis was bold enough to say in his opening remarks that the Senkakus should be protected under the Japan-US security treaty," Hideshi Takesada, professor at Takushoku University in Tokyo and expert on Asian security.

Mattis also had strong words over the South China Sea, saying Beijing "has shredded the trust of the nations in this region", though tempered that message with a call for disputes to be settled through arbitration and diplomacy.

"At this time we do not see any need for dramatic military moves at all," he said.

The call for military restraint stands in contrast to hawkish comments by Rex Tillerson, Trump's newly approved Secretary of State, who said before confirmation that China's access to South China Sea islands it has been fortifying might be blocked -- raising the prospect of a military confrontation.

Trump taps Marine General Mattis for defence secretary

China lays claim to a vast swathe of the South China Sea within a so-called "nine dash line," including waters claimed by several of its Southeast Asian neighbours.

The artificial islands, some with the potential for military use, are considered a potential flashpoint, though Beijing has been adamant in saying it will not back down over the claims.

A former US Marine general who has served in both Japan and South Korea, Mattis told Japan's hawkish Defence Minister Tomomi Inada Saturday that their alliance remained a "cornerstone" of regional stability.

Speaking in Seoul on Friday, he warned North Korea against any violence.

"Any attack on the United States or our allies will be defeated and any use of nuclear weapons would be met with a response that would be effective and overwhelming," he told reporters.
COMMENTS
Comments are moderated and generally will be posted if they are on-topic and not abusive.
For more information, please see our Comments FAQ