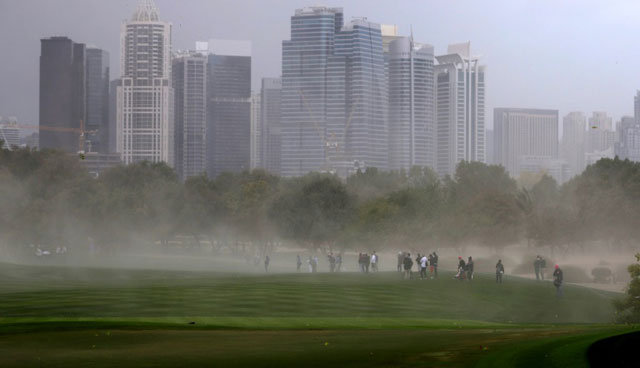 ---
A snow alert has been issued in the United Arab Emirates where a rare storm and high winds Friday toppled one of thousands of cranes in the Gulf desert state.

One person was injured and three cars were destroyed in a fire sparked by the collapse of the crane on Dubai's main thoroughfare, the multi-lane Sheikh Zayed Road, local officials said.


الرافعة التي سقطت اليوم في شارع الشيخ زايد في دبي ونجم عنها إصابة واحدة فقط#تصويري من سيارتي
Crane collapsed due to windy weather in Dubai pic.twitter.com/uKcjtC7wJt

— محمد أبوعبيد (@mobeid) February 3, 2017


The storm led to the cancellation of a stage in the Tour of Dubai on Friday because of the strong winds posing a danger to the cyclists, organisers said.

Heavy snowfall paralyses life in Gilgit-Baltistan

The tour's 170-kilometre (110-mile) penultimate stage, from Dubai to Hatta near the Omani border, would have left riders exposed to blustery winds. Saturday's stage was to go ahead as planned.

Apart from rough seas and winds of between 75 and 80 kilometres (45 and 50 miles) an hour across the UAE, there was rare snowfall on Jebel Jais, a mountain in Ras al-Khaimah emirate.


Picture perfect moment. A snow covered #JebelJais, the UAE's tallest mountain, in #RasAlKhaimah. Photo by: @ahmed_albedwawi pic.twitter.com/8tN2D6TkRj

— Visit Ras Al Khaimah (@RAKTourism) February 3, 2017


The met office said there was a depth of 10 centimetres (four inches) of snow in some places on the less than 2,000-metre (6,500-foot) mountain.

Joy of winter: Fort Munro receives first snowfall of season


إزدياد شدة تساقط #الثلوج على #جبل_جيس حالياً #الوطني_للأرصاد pic.twitter.com/oiXKyKTQ3f

— المركز الوطني للأرصاد (@NCMS_media) February 3, 2017


The mercury fell to minus two degrees Celsius (28 Fahrenheit), with the light snow serving as a magnet for hundreds of Emiratis snapping pictures with smartphones to post on social media sites.


COMMENTS (2)
Comments are moderated and generally will be posted if they are on-topic and not abusive.
For more information, please see our Comments FAQ