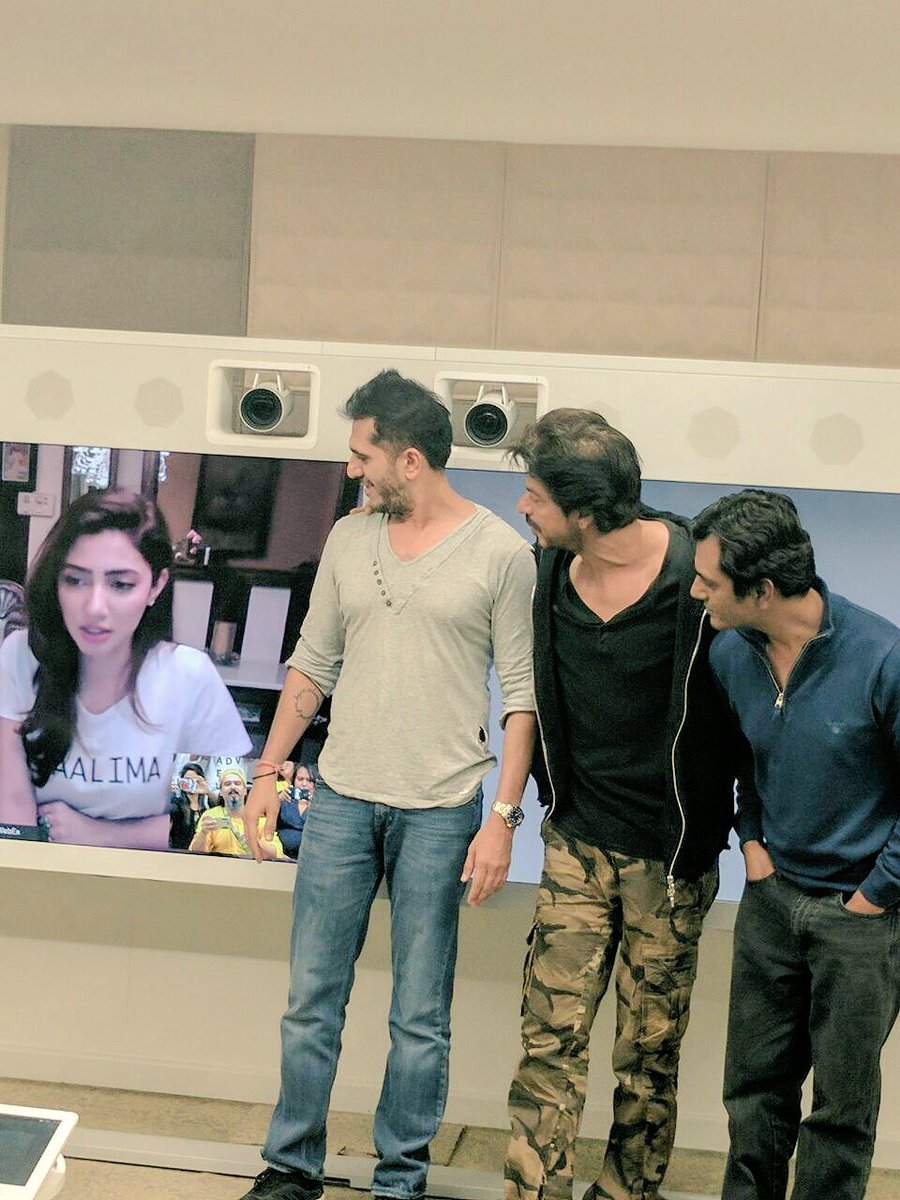 ---
In a fun-filled session to celebrate the success of Raees, Mahira Khan revealed all from her first meeting with the King of Bollywood to her fears regarding people's response to the film.

Mahira joined Shah Rukh Khan, Nawazuddin Siddiqui and the film's producer Ritesh Sidhwani via video call to celebrate the success of the Rahul Dholakia directorial which marks her Bollywood debut.

Here are 5 things we learnt from the session:

1) What Mahira thought will happen when she first met SRK

I first met him [Shah Rukh Khan] when he dropped by during my photo shoot, the actor said. "Even though, I thought the wind will blow and leaves will fall nothing of the sort happened," Mahira jokingly added.

Speaking about her experience of working with SRK, Mahira said, "He spoiled me a lot. It was like a dream come true. I wonder how someone can work with anyone else after working with him. SRK always used to make us laugh even before a serious scene, due to which we simply couldn't keep a straight face for the camera."

"I was nervous as hell. Sometimes I used to wish I wasn't a big Shah Rukh fan. It was scary but it got better, especially after we shot Zaalima. Working with him is a dream come true. Nothing short of that," she added.

Mahira Khan becomes first Pakistani actress to join Bollywood's 100 Crore Club

2) Mahira's fear before film's release

Mahira revealed that her "biggest fear" before the film's release was "that people will root for Shah Rukh's character and not me". "When my family watched the movie, they were also screaming for him," she said.

"But once the film released, all my fears were put to rest by the response that I received, which has been completely fantastic and I am very grateful," she added.

SRK reveals how it was working with Mahira Khan

3) Mahira had to rehearse a lot for the songs

The actor who was seen grooving in the songs Udi Udi Jaye and Zaalima in the film, stated, "I had to rehearse a lot for the songs. The choreographers used to give me examples of the other great Bollywood actresses."

Twitter reacts: Mahira Khan's debut in Raees has hearts racing

4) How Mahira would compare Fawad to SRK

When asked to compare between Fawad Khan and SRK, Mahira said, "My first couple of work was with Fawad. He is really lovely. But at no point I was in awe of Fawad. He is a great co-actor. I still get his calls. With him [SRK]…I think to compare both of them would be so wrong." The superstar then joked, "He [SRK] says, 'Dadhi (beard ) bata de kiski better hai?'" (Tell them who's beard is better).

5) Nawazuddin wasn't too happy about having less scenes with Mahira

Ritesh Sidhwani joked that Mahira thought Raees will cross the 100 crore mark on the very first day. To this, SRK joked that Ritesh told her Salman Khan wasn't a part of the film. While Nawazuddin said he wish he had more scenes with Mahira. "I wanted to be a part of the Zaalima song just to have some more scenes with her." he joked.

Mahira, Shah Rukh Khan's Raees continues to shatter box office records

Assuring that the film will release in Pakistan, the actor said audiences are eagerly waiting for it. "Raees is releasing soon in Pakistan and believe me everybody is waiting for the film just like people had waited all over the world and I believe that it is going to do amazing business here."

The Raees team further revealed they're soon going to release another song of the movie which was edited to shorten the film's running time.

Directed by Rahul Dholakia, the film also stars Nawazuddin Siddiqui in a pivotal role.

Have something to add in the story? Share it in the comments below. 
COMMENTS (3)
Comments are moderated and generally will be posted if they are on-topic and not abusive.
For more information, please see our Comments FAQ