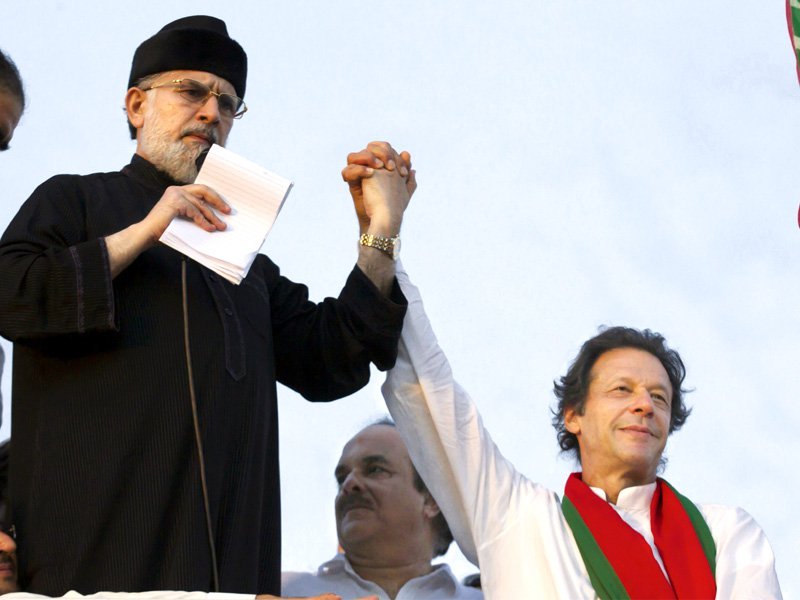 ---
ISLAMABAD: An anti-terrorism court (ATC) issued perpetual warrants on Friday for arresting chairman of the Pakistan Tehreek-e-Insaf (PTI) Imran Khan and chief of the Pakistan Awami Tehreek (PAT) Dr Tahirul Qadri.

The warrants were issued after police submitted a report stating that the suspects could not be arrested despite declaring both accused proclaimed offenders in the case of attack on former
SSP Junejo.

SSP Junejo case: Proclamation proceedings initiated against Imran, Qadri

The issuance of arrest warrants meant that the case would become dormant and revive only when the suspects were arrested.

The incompetence of investigators and prosecutors can be gauged from the fact that the PTI chairman is regularly appearing in the Supreme Court to attend the Panamagate case while the PAT chief is also not entirely untraceable.

Previously, the ATC allowed an application filed by the capital police which sought initiating the process of declaring both accused as proclaimed offenders after the SHO of the Secretariat police station informed the court that the suspects could not be located for making arrests.

With the court's permission, the police initiated proceedings under Section 87 of the Criminal Procedure Code (proclaiming the accused as absconders) against Imran and Qadri after they failed to appear before the court.

Imran, Qadri and several others were booked over their alleged involvement in an attack on the then Senior Superintendent Police (SSP) Asmatullah Junejo during the 2014 sit-ins in the capital.

Earlier, police informed the ATC judge that they could not execute the arrest warrants against Imran and Qadri, contending they were unable to locate them.

Nawaz suspends SSP Junejo for showing leniancy towards religious activists

The police submitted a report before the ATC, stating that a police party had gone to Imran's Bani Gala residence where a security guard had informed them that Imran was not at home.

Court officials said that a similar report was submitted in connection with the execution of Qadri's arrest warrants.

The incident took place on September 1, 2014, less than 24 hours after his first day on the job as SSP (Operations) of the capital police.

Published in The Express Tribune, February 4th, 2017.