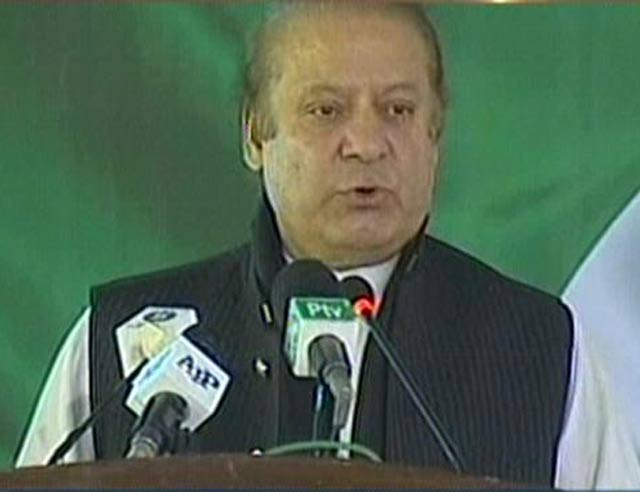 ---
Prime Minister Nawaz Sharif arrived in Karachi on Friday to inaugurate the completed section of Karachi-Hyderabad Motorway (M-9) at Nooriabad.

"I am pleased to know that the motorway is being completed rapidly," the premier said at the inaugural ceremony, adding that work on the motorway is "60 per cent complete." "Pakistan is on the path of development and progress," he said.

Nawaz to open motorway section on 3rd

Addressing those present at the ceremony, PM Nawaz said, "Today, we will achieve a new milestone. This motorway will help connect the people of the country, and bring them closer."




"Today the world is seeing naya [new] Pakistan," the premier said while adding that Gwadar is soon to become a state of the art port.

The 75-kilometre section of M-9 which has been completed includes four interchanges – Dadabhoy Interchange, Industrial Valley Interchange, Nooriabad Interchange and Thano Bola Khan Interchange.

These interchanges will provide access to various areas including Kirthar National Park, Jhampeer, Lake Keenjhar and Thano Ahmed Khan. Five bridges and two trauma centres – at Nooriabad and Damba Goth – have also been completed as part of this section.




Work on the 136km Karachi-Hyderabad Motorway project commenced on September 17, 2016, and is expected to be ready by March 17, 2018 at a cost of Rs36 billion. Construction work has also been started on a 120km patch including interchanges, five bridges, 197 km service road and plantation on 40km.

At present, the government is spending Rs1,200 billion on various roads infrastructure, which, it claims, will change the economic outlook of the country.

M-9 motorway project: '76km to be opened for traffic by month end'

The under-construction motorway projects include Thakot-Havelian, Lahore-Abdul Hakeem (M-3), Sukkur-Multan Motorway (M-5), Gojra-Shorkot and Shorkot-Khanewal. Upon completion of these projects, the total length of the motorways will reach 2,000 km.