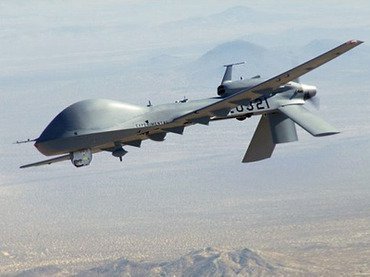 ---
PARACHINAR: At least five fighters of the Afghan Taliban were killed in a US drone strike in a Pakistan-Afghanistan border region on Thursday, The Express Tribune has learnt from security sources.

It was the first drone strike in the Pak-Afghan border region since the installation of Donald Trump as the president of the United States.

A remotely piloted American aircraft fired missiles at a vehicle which was en route to Kurram Agency from the Khost province of Afghanistan, security sources said. All five men travelling in the vehicle were killed on the spot. They have been identified as top cadres of the Afghan Taliban.

Security sources said the drone strike took place well within Afghan territory, a few kilometres away from the Pakistani border region of Spin Ghar.

Local tribesmen confirmed the Taliban's shadow governor for Khost was among the high-profile fatalities. They, however, would not name the victims.

The US and Afghan forces have stepped up operations against the Taliban and Islamic State, also known by its Arabic acronym Da'ish, on the Afghan side of the Durand Line.

Meanwhile, the outlawed Tehreek-e-Taliban Pakistan (TTP), which enjoys safe havens in Afghanistan, said on Thursday that a breakaway faction of the group has returned to the fold. The TTP had fragmented following the death of Hakimullah Mehsud in a US drone strike in North Waziristan Agency in November 2013.

In a statement emailed to mediapersons based in Peshawar, TTP spokesman Mohammad Khorasani said Khalid Mehsud, the leader of the Hakimullah Mehsud faction, has been appointed as TTP's deputy chief after he pledged allegiance to Mullah Fazlullah.

In June last year, Hakimullah's brother and uncle, along with five other militants, surrendered to authorities in Kurram Agency. Ejaz Mehsud and Khair Muhammad Mehsud had turned themselves in near the Pak-Afghan border.

At the time, tribal sources had told The Express Tribune that some members of the Hakimullah Mehsud faction were behind the handover 'under an arrangement' with the authorities.

The Hakimullah Mehsud faction had neither publicly parted ways with Fazalullah's TTP nor had the umbrella group disowned it. Its members are believed to have been living in the Paktika province of Afghanistan. The splinter group would also claim responsibility for the attacks in Pakistan.

The Express Tribune has learnt that TTP's splinter groups and the Lashkar-e-Jhangvi sectarian militant outfit have been discussing the possibility of forming a joint front. (With additional reporting by Tahir Khan in Islamabad)

Published in The Express Tribune, February 3rd, 2017.
COMMENTS
Comments are moderated and generally will be posted if they are on-topic and not abusive.
For more information, please see our Comments FAQ