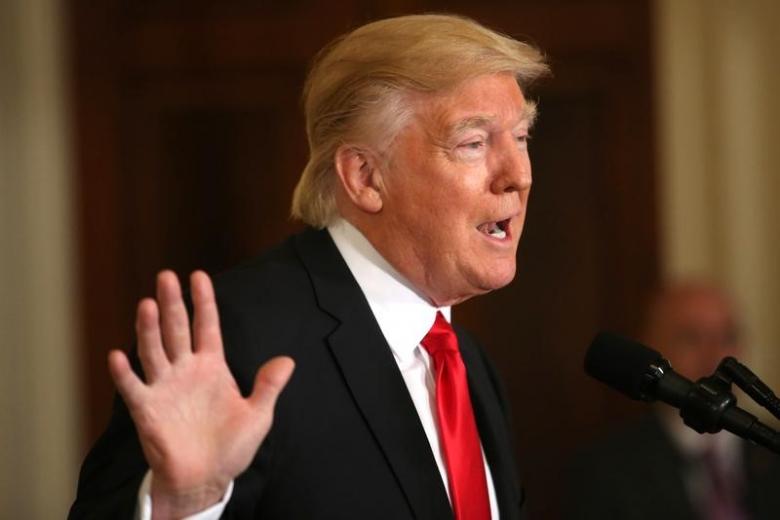 ---
NEW YORK/BAGHDAD/CAIRO: A federal judge blocked part of President Donald Trump's temporary immigration ban, ordering authorities to stop deporting refugees and other travellers stuck at US airports.

The decision accompanied growing resistance to Trump's crackdown on Muslim immigration, with large protests spreading at major airports across the country.

"Victory!!!!!!" the American Civil Liberties Union (ACLU), whose lawyers sued the government, tweeted after US District Judge Ann Donnelly issued her decision.

"Our courts today worked as they should as bulwarks against government abuse or unconstitutional policies and orders."

Trump's sweeping executive order, signed on Friday, suspends the arrival of refugees for at least 120 days and bars visas for travellers from seven Muslim majority countries for the next three months.

Large protests took place at the main airports for Washington, Chicago, Minneapolis, Denver, Los Angeles, San Francisco and Dallas.

Donnelly's decision to issue a temporary stay -- which stopped short of ruling on the constitutionality of Trump's order -- came after dozens of people were detained at US airports following Trump's actions.

The exact number of those affected is unclear, but the judge ordered the government to provide lists of all those detained at US airports since the measure went into effect.

Sending those travellers back to their home countries following Trump's order exposes them to "substantial and irreparable injury," wrote Donnelly, who was appointed by Trump's Democratic predecessor Barack Obama.

Federal judges in three states followed one in New York in barring authorities from deporting travellers affected by the executive order.

The judges in Massachusetts, Virginia and Washington State issued their rulings late on Saturday or early on Sunday.

The US Department of Homeland Security said in a statement that it would comply with court rulings while at the same time implementing Trump's order "to ensure that those entering the United States do not pose a threat to our country or the American people."

Attorneys general from 16 US states, including California, New York and Pennsylvania, issued a joint statement condemning the executive order.

"We are committed to working to ensure that as few people as possible suffer from the chaotic situation that it has created," the statement said.

Across the United States, lawyers worked overnight to help travellers caught up in confusion at airports after the new Republican president on Friday halted immigration from the seven countries and temporarily stopped the entry of refugees.  Attorneys and advocates said they have filed more than 100 cases for individual travellers around the country.

Democratic Representative Jerrold Nadler, who went to JFK to press for the release of those detained under Trump's measure, said "We must fight this executive order in the streets, in the courts, anywhere, anytime. We must resist. We must fight."

Trump fights criticism

US President Donald Trump fought back amid growing international criticism, outrage from civil rights activists and legal challenges over his abrupt order for a halt on arrivals of refugees and people from seven countries.

He and senior aides sought to defend the policy and play down the chaos sparked by Friday's order. But confusion persisted over details of implementation, in particular for green card holders who are legal residents of the United States.

"Our country needs strong borders and extreme vetting, NOW. Look what is happening all over Europe and, indeed, the world - a horrible mess!" Trump wrote on Twitter on Sunday.

"Christians in the Middle-East have been executed in large numbers. We cannot allow this horror to continue!" added Trump, who has presented the policy as a way to protect Americans from the threat of militants.

Trump's comment could fuel charges that the new policy singles out Muslims.

In an indication that the policy is evolving on the fly, White House Chief of Staff Reince Priebus said on NBC's "Meet the Press," that the order "doesn't affect green card holders moving forward." However, he added that such people would be subjected to extra questioning by Customs and Border Patrol agents when they tried to re-enter the United States.

A senior administration official said green card holders will be subject to a rescreening but it had not been determined where and how those screenings would be carried out. Specific guidelines were being put together, the official said, adding "they could be screened in many different ways and in many different places."

Chuck Schumer, the senior Democrat in the Republican-controlled US Senate, said on Sunday his party would introduce legislation to overturn the policy.

Schumer said he spoke with Homeland Security Secretary John Kelly to express his concerns about the order and Kelly had told him that the executive order would not affect legal permanent residents.

"We need clarification. But it shows you, above the bad nature, the horrible nature of these (orders), the incompetence of this administration," Schumer told a news conference.

In a similar vein, US Senator John McCain said Trump's order targeting immigration from seven predominantly Muslim countries has been 'confusing' and raised a number of questions.

"It's been a very confusing process," McCain, a Republican and chairman of the Senate Armed Services Committee, told CBS' 'Face the Nation.'

McCain said the effect of Trump's immigration order "will probably, in some areas, give ISIS (Islamic State) some more propaganda," and asked why the countries targeted by the order included Iraq, where US forces are fighting alongside Iraqi forces against Islamic State.

McCain said he was "worried" about the addition of Trump's chief strategist and former campaign chief Steve Bannon to the US National Security Council.

Global backlash

Several countries including long-standing American allies criticised the measures as discriminatory and divisive.

Governments from London and Berlin to Jakarta and Tehran spoke out against Trump's order to put a four-month hold.

In Germany - which has taken in large numbers of people fleeing the Syrian civil war - Chancellor Angela Merkel said the global fight against terrorism was no excuse for the measures and "does not justify putting people of a specific background or faith under general suspicion", her spokesman said.

She expressed her concerns to Trump during a phone call and reminded him that the Geneva Conventions require the international community to take in war refugees on humanitarian grounds, the spokesman added.

Merkel's sentiments were echoed in Paris and London; "Terrorism knows no nationality. Discrimination is no response," said French Foreign minister Jean-Marc Ayrault, while his British counterpart Boris Johnson tweeted: "Divisive and wrong to stigmatise because of nationality."

Washington's Arab allies, including the Gulf states and Egypt, were mostly silent. The government in Iraq, which is allied with Washington in the battle against ultra-hardline Islamist group Islamic State and hosts over 5,000 US troops, also did not comment on the executive order.

But some members of the parliament said Iraq should retaliate with similar measures against the United States.

In Baghdad, influential Shia cleric Moqtada al Sadr said American nationals should leave Iraq, in retaliation for the travel curbs.

"It would be arrogance for you to enter freely Iraq and other countries while barring to them the entrance to your country ... and therefore you should get your nationals out," he said on his website.

The Tehran government vowed to respond in kind to the US ban on visitors from Iran, but on Sunday Foreign Minister Mohammad Javad Zarif said on Twitter that Americans who already hold Iranian visas can enter the country.

"Unlike the US, our decision is not retroactive. All with valid Iranian visa will be gladly welcomed," Zarif said.

Canadian Prime Minister Justin Trudeau said his country welcomed those fleeing war and persecution, even as Canadian airlines said they would turn back US-bound passengers to comply with an immigration ban on people from seven Muslim-majority countries.

"To those fleeing persecution, terror & war, Canadians will welcome you, regardless of your faith. Diversity is our strength #WelcomeToCanada," he tweeted.

Published in The Express Tribune, January 30th, 2017.