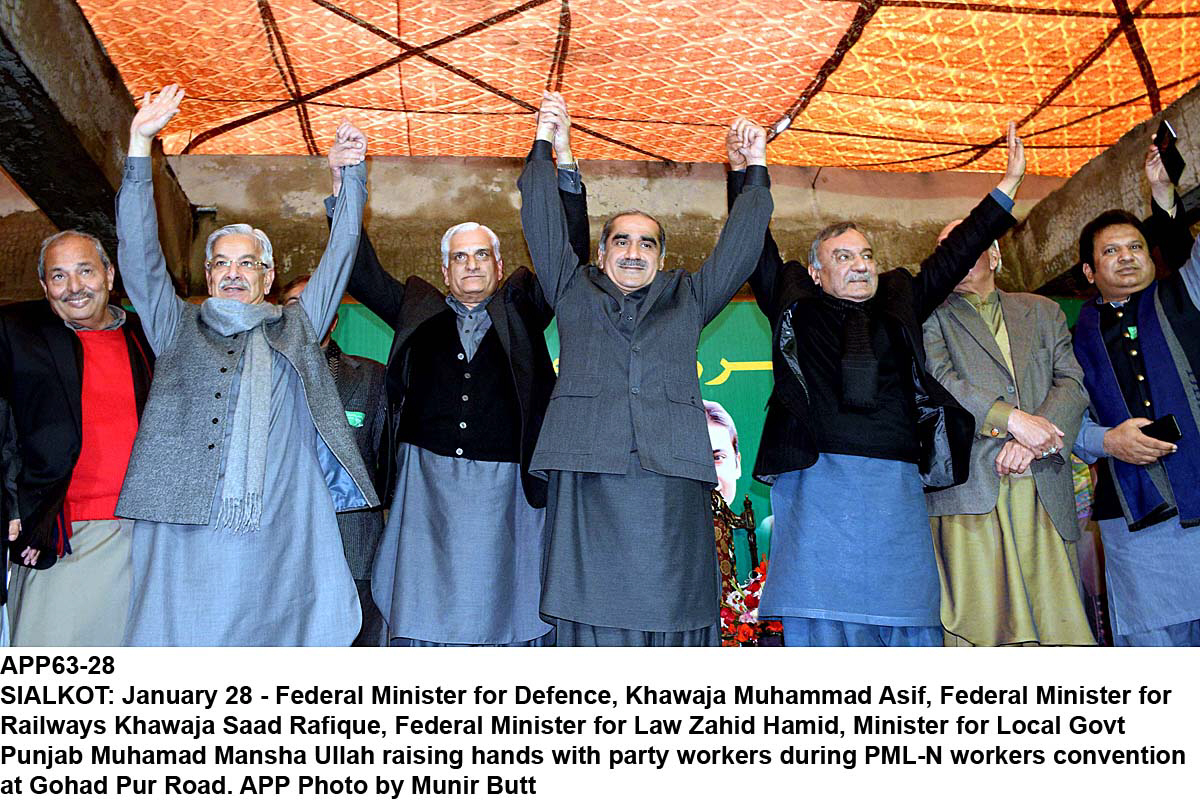 ---
SIALKOT: Defence Minister Khawaja Asif on Saturday said people will reject 'negative politics' in the next elections and vote Pakistan Muslim League-Nawaz to power again.

"Pakistanis have matured politically and have rejected negative politics of certain elements who are trying to impede the country's march towards development," he said at a PML-N workers' convention in Sialkot. "The time has come for the nation to see a 'roshan' (shining) Pakistan."

PM Nawaz urges nation to focus on sciences

Asif said the country is rapidly attaining economic and political stability due to the development process his party had launched. Pakistan, he added, would continue its journey towards socio-economic and human development despite hurdles created by political opponents.




The minister said Prime Minister Nawaz Sharif was the only premier of the country who had presented himself and his family members for accountability.

He said the government was committed to ending terrorism at all costs, adding that it had already uprooted terrorists from their sanctuaries and eliminated them with the help of the whole nation.

He lauded the services of the armed forces of Pakistan, other law enforcing agencies and the nation for fighting against terrorism. Asif stressed over the need of an effective role of the media in the fight against terrorism.  The minister reiterated the government's stance on ending load shedding in 2018.

Scuffle breaks out between PTI, PML-N lawmakers in National Assembly

Addressing the convention, Railways Minister Khawaja Saad Rafiq said the government was pursuing a country-wide development programme.

Pakistan, he said, was making development in every sphere of life as the PML-N government was successfully fulfilling all its commitments and pledges made to the people before coming to power.




He said it was strengthening all the national institutions. "With its performance, the PML-N would again form the government after the 2018 elections," he maintained.

In an apparent reference to the Pakistan Tehreek-e-Insaf, the railways minister said that the 'container people' were protesting for nothing.

"We have been bringing happiness for the people under Prime Minister Nawaz Sharif's vision of national development and prosperity. But they [opponents] are creating hurdles," he added.

PTI moves privilege motion in NA against PML-N lawmakers following pandemonium

The government, he said, would foil every attempt of the 'Dharna politicians' to destabilise the country— both politically and economically.

"They will not be given a free hand to derail democracy. They should not dictate the government for their personal gains," he added.

Published in The Express Tribune, January 29th, 2017.
COMMENTS (3)
Comments are moderated and generally will be posted if they are on-topic and not abusive.
For more information, please see our Comments FAQ