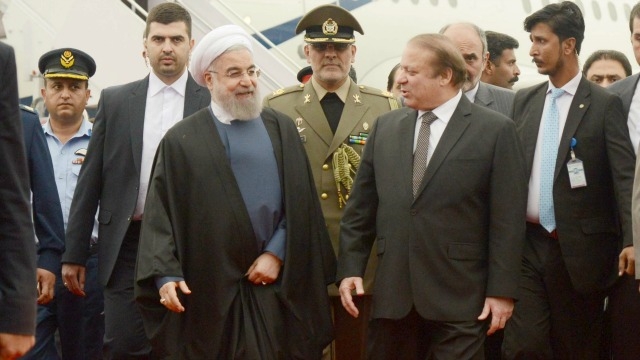 ---
ISLAMABAD: The world, particularly Asia, has been undergoing a great transformation in recent years with the emergence of new alliances. Last month, Pakistan, Russia and China's unprecedented trilateral meeting in Moscow on Afghanistan made headlines.

Now, Iran has expressed its willingness to join hands with Pakistan, China and Russia seeking a greater role for regional peace and stability particularly in Afghanistan.

India expresses disappointment over Pakistan-Russia military cooperation

Alaeddin Boroujerdi, the head of Iran Parliament's committee on national security and foreign policy, who was on a three-day visit to Islamabad, hinted at a news conference here on Friday the formation of four-nation alliance against the backdrop of regional and international developments.

Boroujerdi held wide-ranging talks with Pakistani authorities including Prime Minister's Adviser on Foreign Affairs Sartaj Aziz, National Security Adviser Lt Gen (retd) Nasser Khan Janjua, told reporters that new alliances would be formed in the wake of victory of Donald Trump in the recent US presidential elections.

Given the changing situation, Pakistan, Russia, China and Iran should cooperate with each other for regional peace and stability, he added.

There were reports that Pakistan, China and Russia might invite Iran to join their discussions seeking a political solution to the long running unrest in Afghanistan.

When asked to comment on Pakistan's stance seeking Afghan-led and Afghan-owned peace process, the senior Iranian politician while emphasising the need for 'intra-Afghan dialogue' insisted that no one should impose decision from outside.

He acknowledged both Pakistan and Iran could play an important role in helping Afghanistan dealing with the problem of militancy.

Pakistan, Russia and China warn of increased Islamic State threat in Afghanistan

When asked whether Iran would join Saudi-led coalition formed last year to fight terrorism, Boroujerdi claimed the Saudi initiative was only meant to kill innocent people in Yemen. "Therefore, no one would like to be part of such a coalition," he said

To another question about the arrest of Indian RAW agent Kulbhushan Yadav, the Iranian leader said the intelligence agencies of the two countries were in contact with each other over the issue. However, he added that Iran had not yet shared with Pakistan its investigations about the controversy.

Declaring Iran's Chahbaha port and Pakistan's Gwadar as sister ports, Boroujerdi pointed out that Iran was willing to join the China-Pakistan Economic Corridor (CPEC) as according to him that this would benefit Islamabad and Tehran.

Published in The Express Tribune, January 28th, 2017.
COMMENTS (28)
Comments are moderated and generally will be posted if they are on-topic and not abusive.
For more information, please see our Comments FAQ