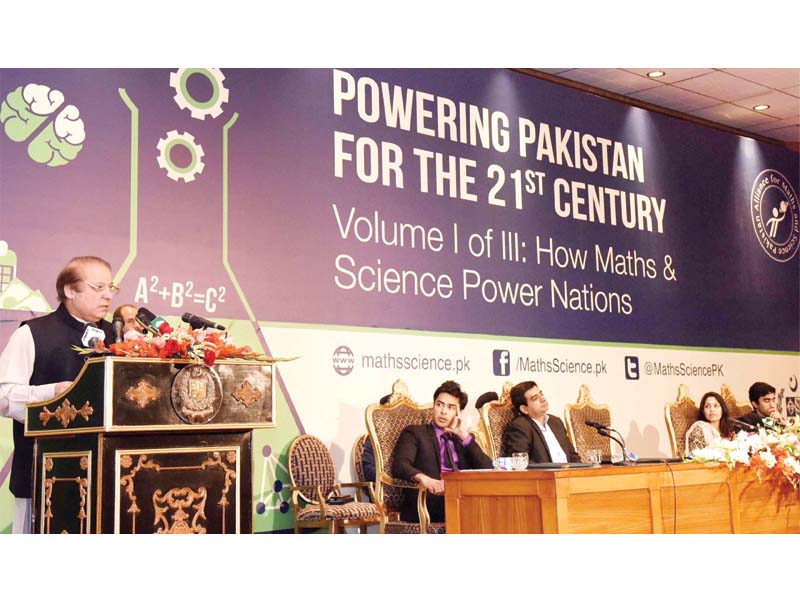 ---
ISLAMABAD: Prime Minister Nawaz Sharif on Friday urged the nation to focus on sciences, including mathematics, to ensure progress in all spheres of life and attain a coveted place in the comity of nations.

He was addressing an event on the launch of the first volume by the Pakistan Alliance for Maths and Science's Publication Volume-I: "How maths and science power nations", here at the PM Office.

According to a detailed official statement, Sharif said his government is endeavouring "to rise above petty political issues and focus on provision of quality education with particular emphasis on science to take the country forward."

"The future of every nation is based on learning mathematics and sciences," adding, "Ancient civilisations relied on their knowledge, innovated and built cities that still are a source of marvel."

He said the artefacts used by the people of Harappa, Taxila and Moenjodaro and the style of their buildings reflected that they were highly learned and civilised.

Sharif said: "Islam also calls for learning, research and studies and that is the reason great Muslim scientists and researchers made great discoveries in every field of life.

"Muslims of the Subcontinent rose to the fore due to the efforts of educated scholars." In this regard the prime minister specially mentioned Sir Syed Ahmed Khan's efforts. "The quest for knowledge is also apparent in speeches and writings of Quaid-e-Azam Mohammad Ali Jinnah."

He said Pakistan was now also an associate member of the European Research Centre (CERN) and its scientists were bringing a good name to the country.

He regretted that in the past vital areas of food security, environmental issues, educational reforms and economic stability were ignored; however, the present government was making hectic efforts to overcome the lapses of the past, and taking the country to the path of progress and prosperity.

Sharif said his government was endeavouring to improve the condition of educational institutions and was upgrading all schools in the federal area to bring these at par with those in the modern world.

Published in The Express Tribune, January 28th, 2017.