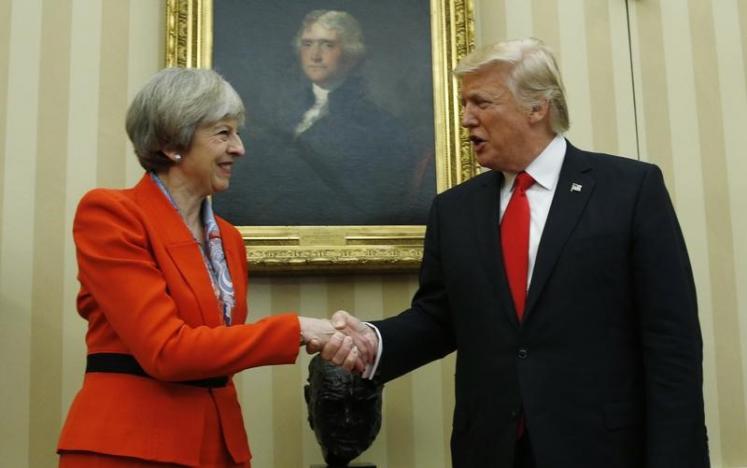 ---
President Donald Trump hailed a "most special relationship" with Britain and threw his support behind Brexit Friday, as he hosted British Prime Minister Theresa May for his debut on the diplomatic stage.

At a tense moment in trans-Atlantic relations, Trump tried to recast the "deep bond" as a meeting of ideological minds: two countries embracing populist policies and taking an uncompromising view of the national interest.

Trump pointed to Britain's exit from the European Union as a "wonderful thing" and said: "When it irons out, you're going to have your own identity, and you are going to have the people that you want in your country."

"You're going to be able to make free trade deals without having somebody watching you and what you are doing," he added.

May brushed aside deep-seated differences on issues from torture to Russia, to pursue a diplomatic charm offensive aimed at securing commitments on trade and mutual defense.

May conveyed an invitation from Queen Elizabeth II for Trump to come to Britain for a state visit later this year.

The pair even briefly held hands as they walked down the West Wing colonnade.

Trump greeted May himself upon her arrival at the White House and then they went to the Oval Office, posing and shaking hands in front of a bust of Winston Churchill.

Behind closed doors, May was expected to give Trump an engraved quaich -- a ceremonial cup exchanged by Scottish highland chiefs -- in a nod to Trump's Scottish ancestry. His mother was born on the island of Lewis.

For First Lady Melania Trump, May was to gift a hamper of apple juice, damson plum jam, marmalade, Bakewell tarts and cranberry and white chocolate shortbread cookies.

But May also came with a diplomatic shopping list. Trans-Atlantic relations have been rocked by Trump's election and his willingness to rethink NATO, the UN and other foundation blocks of the liberal world order.

With Trump largely silent on these issues during a joint press conference, May conveyed what had been said in private.

"We've reaffirmed our unshakeable commitment to this alliance," she said. "Mr President, I think you confirmed that you were 100 percent behind NATO."

Response To Trump: Merkel warns against protectionism 

Much of Britain's military power, including its nuclear deterrent, depends on US equipment and systems.

In private, European diplomats worry about the influence of top Trump advisor Steve Bannon, who has made common cause with right-wing nationalists and populists in France, Britain and beyond.

Many in European capitals are conscious of the continent's previous embraces of nationalism -- the Balkan wars and the horrors of World War II, which left millions dead.

Trump's break with decades of US support for multilateral trade deals and his preference for bilateral accords did offer May one opening as she seeks to navigate Britain's complex exit from the European Union.

Faced with exit from the European single market, the British government is scrambling to secure bilateral deals around the world.

Trump nevertheless offered no firm commitment to negotiate a free trade agreement, but did say: "We look forward to working closely with you as we strengthen our mutual ties and commerce, business and foreign affairs."

That could pose problems for May at home. Her decision to meet Trump just one week after his inauguration has caused considerable controversy.

Trump has been condemned by European politicians of all stripes for his comments about women, Muslims and the use of torture.

May was not helped Thursday when the White House misspelled her name multiple times when announcing her visit.

The reserved daughter of a vicar had promised to be "frank" in her dealings with the unpredictable billionaire. The pair laughed off questions about their personal compatibility.

Trump joked that he was "not as brash as you might think" and, turning to May, said: "I think we're going to get along very well."

Throughout the long US election campaign, Trump showed little interest in foreign policy except through the prism of his image at home and a pledge to put "America First."

His first week in office has been marked by a war of words with Mexico over the building of a border wall, and his vow to make Mexico pay for it.

On Thursday, Mexican President Enrique Pena Nieto called off a planned trip to Washington in protest. But the pair spoke by telephone on Friday and agreed to try to resolve their differences, the two sides said.

May arrived in the United States on Thursday and received a rapturous welcome from Republican lawmakers gathering in Philadelphia with a speech urging them to "beware" of Russia, and warning US allies to "step up" and play a greater role in global security.

On Friday, Trump said it was "too early" to talk about whether he might lift sanctions against Moscow. May took a much sterner line, saying the sanctions should continue.
COMMENTS
Comments are moderated and generally will be posted if they are on-topic and not abusive.
For more information, please see our Comments FAQ