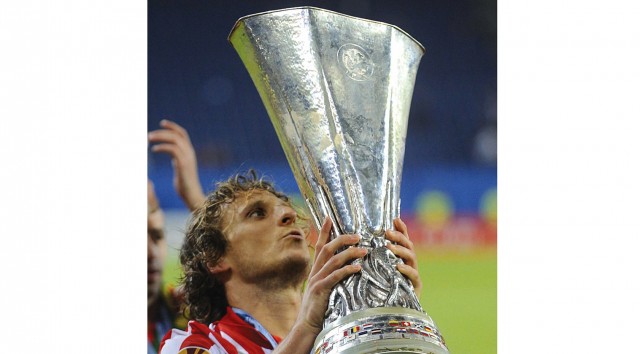 ---
Atletico Madrid won the inaugural final of the Europa League on Wednesday as Diego Forlan struck an extratime goal that broke Fulham's hearts and secured a 2-1 win.

Having already scored the crucial goal at Anfield that knocked Liverpool out at the semi-final stage, Forlan was on target in the first half and then slipped his marker to score in the 116th minute to send the title to Madrid. Atletico take early lead Atletico opened the scoring when left winger Simoa Sabrosa controlled the ball with his chest before Aguero's mis-hit shot found Forlan, who slotted in his fifth goal of the competition on 32 minutes.

Fulham were back on level terms just five minutes later after Zamora won possession on the edge of the penalty area, Gera chipped in a cross and Welsh midfielder Simon Davies drilled home a fine volley. But Forlan was a constant threat and Schwarzer had to push his shot around the near post just before the break as it stayed 1-1 at half-time. Hodgson took off Zamora, who had not looked sharp, on 55 minutes to give United States winger Clint Dempsey a chance up front and he immediately combined with Gera to test de Gea.

Extra-time woes It remained 1-1 after 90 minutes and as the game went to extra time, Atletico had the best chance of the first period as Gera was dispossessed, but Forlan could not get his shot past Schwarzer. On the stroke of the extratime changeover, Aguero hit the side-netting from close range after Forlan had broken through again past a tiring Fulham defence. With both sides flagging, Forlan finally slipped his marker to give the Spaniards their first trophy since 1996 and claim his sixth goal of the tournament as well as his fourth in his last three European games.

For Fulham manager Roy Hodgson, this was the second time he has finished on the losing side in a European final after he lost the 1997 UEFA Cup final with Inter Milan. "The players are obviously very disappointed, but we put in a valiant performance," said Hodgson. "It was a bitter blow to concede such a late goal. I thought the game was heading to penalties, we were looking good despite the tiredness and holding our shape. "Forlan scored a typical goalscorer's goal and we simply didn't have enough time to recover, but I am tremendously proud of what those players have achieved."

Published in the Express Tribune, May 14th, 2010.
COMMENTS
Comments are moderated and generally will be posted if they are on-topic and not abusive.
For more information, please see our Comments FAQ