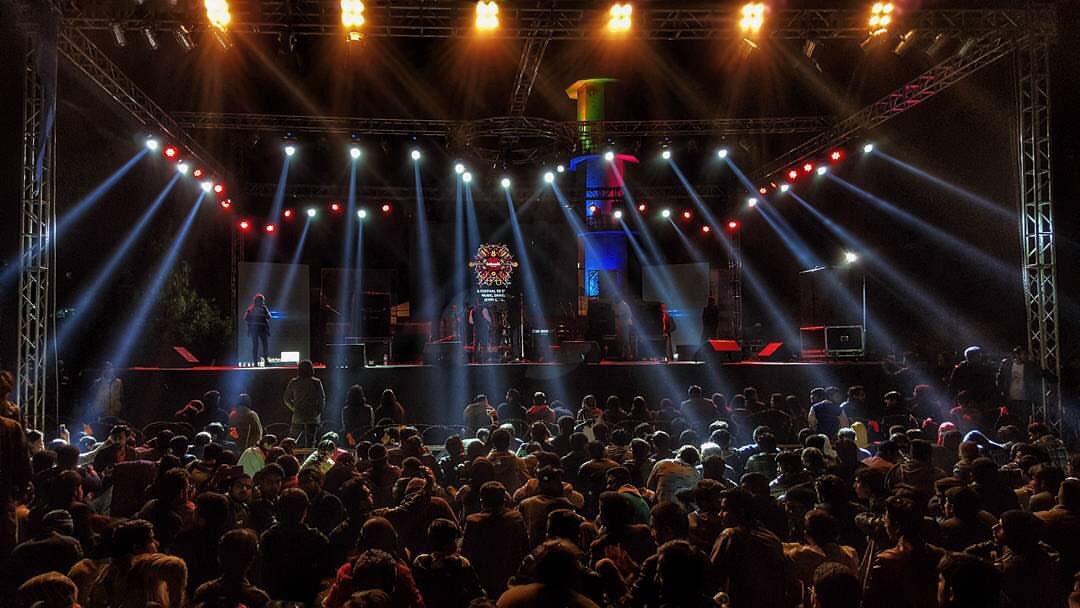 ---
HYDERABAD: Sindh is known for its small sleepy towns. These towns are often the hub of general inactivity. For eons, they have been this way. But in the heart of the historic province, something stirs. Slowly, but surely, it seems to be waking up from its slumber.

Inside Hyderabad, Sindh's second largest city, something is afoot. It is suddenly the epicentre of activity. People are gathering there from all across the province, all across the country and all across the world. Take a closer look and you will realise they all have something or the other to do with music — they are enthusiasts, they are professional musicians, they are connoisseurs of the arts; but they are all here for the music.

Lahooti Melo appeals to your ears and mind

This is the Lahooti Melo, an annual celebration of music that is now in its second year. This is Saif Samejo's monster.  And when it roared, harmonious and melodic, Hyderabad stopped to listen.


#LahootiMelo2017 climax with Khumariyan and keeps going till Sketches band 🙏🏽ufffff pic.twitter.com/0tkz6DGs4H

— jami (@jamiazaad) January 23, 2017


At the Hyderabad Club they gathered, flocking in numbers well into the thousands to see the 31 musicians scheduled to perform there, along with the number of sessions being held, discussing music and the arts. Perhaps the biggest festival of its kind not held in one of Pakistan's major three cities. Hell, perhaps the biggest festival of its kind anywhere in the country.

This is Saif Samejo's monster.


Dallas Brown Band. #LahootiMelo2017 pic.twitter.com/sM7SkQHCxS

— Lahooti (@Lahooti_) January 22, 2017


Musicians from all over the country gathered along with those from Nepal, US and Hungary. In pristine Hyderabad sunshine, they talked about peace, they talked about love, they talked about music. As the cool breeze blew across the large venue, they danced, they sung and they played the instruments closest to their hearts. Not a care amongst them.

This is Saif Samejo's monster.

Lahooti Melo kick starts with a feast of folk, mainstream music

The crowd consisted mainly of young school-going children. A heartening majority of them were girls, coming either on their own or with their school friends. They came without fear or apprehension — of either harassment or judgement.

This is Saif Samejo's monster.

When Natasha Baig sang Mahi Yar Di Gharoli, she screamed into the cold night. At her every word, the thousands danced, losing themselves in the music of a young and unknown artist. Minutes before going on she had admitted that she was nervous, now she was controlling these young men and women like a master of puppets.

This is Saif Samejo's monster.


a Nepali and and American band are playing Roadhouse Blues to a crowd of 10,000 Hyderabadis now #LahootiMelo2017 pic.twitter.com/3yvXBAPqgl

— Faisal Rafi (@faisalrafi) January 22, 2017


Late into the night, hours of the first day had ended, a few musicians from some of the country's most famous bands sat in a smoke-filled room and jammed, playing Pink Floyd's iconic The Wall. A train passed by the line of guesthouses where they were all staying, shaking the room. These men, household names for many, continued playing amidst the din; too lost in the music to care.

This is Saif Samejo's monster.

Fans and musicians intermingled, walking without concern or detachment. Somewhere, in the afternoon warmth, Khumariyaan rhythm guitarist Aamer Shafiq sat on the grass with a journalist he had just been introduced to. As they sipped tea, they discussed classical music and how it changed the world for both of them; having grown up with the sounds of iconic rock and roll bands. When the journalist admitted he had never heard a Khumariyaan song, Shafiq expressed his delight at his honesty and asked if he would like to listen to one.


Some glimpse with most talented musician of Hungary 🇭🇺 @BurnsKatalin pic.twitter.com/XRiYrgVOBN

— Urjaa Band (@UrjaaBand) January 23, 2017


And so they sat on the warm grass, the sun slowly setting into the horizon, a member of one of Pakistan's finest instrumental bands playing a song by them on his phone. It was closer to the behaviour of a struggling artist selling his mixtapes on street corners than of one of the country's most trailblazing musicians. Upon the insistence of the awe-struck journalist, he played a few more songs.

This is Saif Samejo's monster.

For a few days Hyderabad was transformed. Renowned celebrities, powerful politicians and struggling artists broke bread together. From early afternoon to well into the night, it was filled with song, laughter and dance.

This is Saif Samejo's monster.

Have something to add in the story? Share it in the comments below.