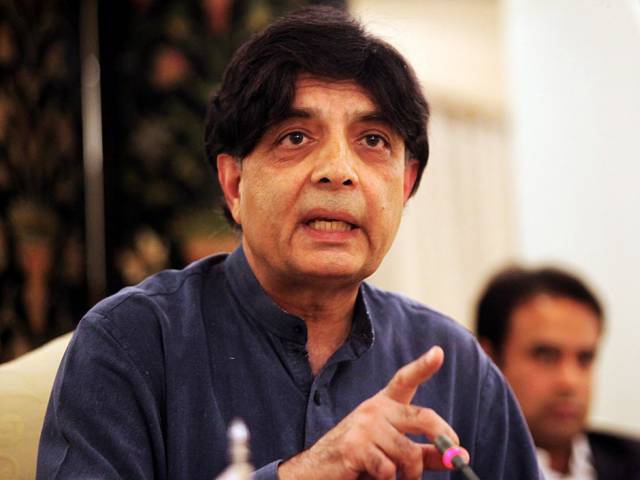 ---
ISLAMABAD: In an oblique reference to the opposition Pakistan Peoples Party, Interior Minister Chaudhry Nisar Ali Khan on Saturday heaped scorn on all those who had pillaged the national treasury and were now spearheading anti-corruption rallies.

The PPP has already staged the first of a series of rallies against the federal government.

"It is an irony that those who have stolen the state's wealth during their five-year term are now leading anti-corruption rallies," Nisar told public meetings in different areas of his constituency – Rajar, Sihaal, Koliyan Hameed.

Bakhtawar expresses concern over Bilawal's address from car sunroof

"Politics is done on the basis of performance and not on allegations and statements. Fake statements, allegations and false promises are leading the people away from the principles of truth and honesty. This is the root cause of all problems," he added.




According to the interior minister, only those countries can develop where decisions are made in the courts and not on the road and where the people have faith in their institutions. "No country can continue its journey to progress in chaotic conditions and there is no justification for creating chaos," he said.

Nisar said that in stark contrast to his opponents his statements were "always logical and supported by solid evidence" while accusing his foes of making  false allegations and statements. He said those who had changed their political loyalties for mere benefits were just traders and fortune seekers and not politicians.

Bilawal and I will contest elections to be a part of this Parliament: Zardari

The interior minister said he defended the country and Islam at all forums considering it his religious as well as national duty. He said people of his constituency had always preferred performance and that Pakistan would definitely progress if the same principle was followed elsewhere in the country.

"The people of Potohar region are intellectually rich and know the difference between right and wrong," he said, adding that during his 35-year-long political stint he had laid down a web of development work in his constituency which can be equated with any other developed area.

Published in The Express Tribune, January 22nd, 2017.
COMMENTS (1)
Comments are moderated and generally will be posted if they are on-topic and not abusive.
For more information, please see our Comments FAQ