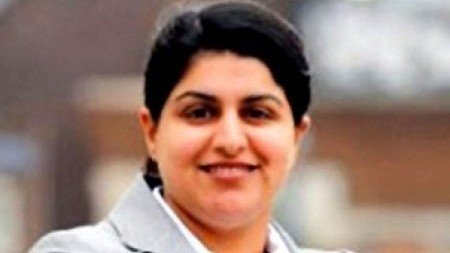 ---
LONDON: Sayeeda Warsi, Britain's first female Muslim Cabinet minister said on Thursday that it was "humbling" to join the government, after taking part in new Prime Minister David Cameron's first full ministerial meeting.

Warsi is the Conservative Party's chairwoman and minister without portfolio in Cameron's new coalition government.

"For anybody to serve in government is a privilege," said the 39-year-old of Pakistani origin, after Cameron held his first Cabinet.

"But to be born the daughter of an immigrant mill-worker in a mill town in Yorkshire, to have the privilege of serving in Cabinet at such an important time in Britain's history I think is terribly humbling," she told the BBC.

Warsi, who described herself as a "northern, working-class-roots mum," says she joined the Conservative Party after being inspired by her father, who went from working in a mill to run a highly successful bed-making business.

The Tories came top in elections last week but failed to win an absolute majority. Cameron took office after five days of tense negotiations with the Liberal Democrats, the third-placed party which emerged as kingmaker.