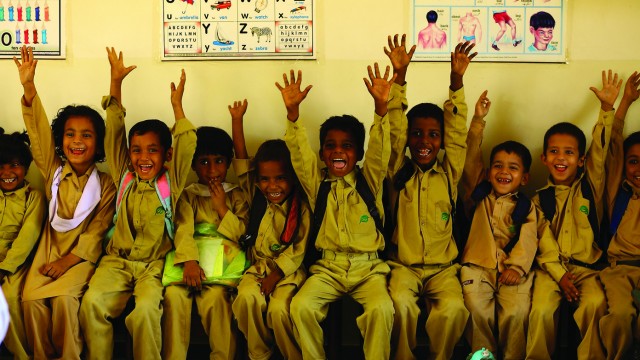 ---
Anum Fatima wants to be the Chief Financial Officer of a multinational company and she is well on her way.

Studying at the College of Business Management (CBM), one of the country's most prestigious private universities, the 20-year-old exudes confidence. She credits her teachers for inspiring her to do better. "I remember when I was in Class IX, my teacher Miss Nighat told me to keep working hard because I would go far," she says. That Anum is a chauffeur's daughter from Bhains Colony makes her progress even more inspirational.

She is only one of the students of The Citizens Foundation (TCF) whose lives have changed dramatically, who have, for the first time, been presented with real opportunity. "If I had not gone to TCF, I would not have studied beyond Intermediate," she says. "It would have been much too expensive for my father." With five children to support on a monthly income of Rs 7,000, Anum's father could not really see the use of higher education till he sent his younger ones to the TCF school that had opened in the Landhi Buffalo Colony in Karachi's suburbs. Anum remembers looking through her siblings' schoolbooks.

"Their text books and homework seemed so interesting, I wondered what the school was like from the inside. I longed to go but I was afraid my father would be angry," she says. But when her father saw the difference in his younger children, he himself enrolled Anum at TCF's Shireen Sultan Dossa Campus. Across Pakistan, TCF schools are empowering children from disadvantaged backgrounds to take charge of their lives and their environment, breeding a new set of thinkers, enabling what TCF director Ateed Riaz calls 'full citizenship'.

We've heard the TCF story before ­— how, 15 years ago, six business heavyweights, frustrated with dinner party banter about the country's dismal state, decided to devise a solution; how, when they listed the country's most acute problems — poverty, health, intolerance, population, education, water and sanitation — they realised that they were all linked to a lack of education; and how they pledged to battle ignorance by developing a programme to build 1000 schools.

In 1995, five TCF schools were built in Karachi's biggest slums. Fifteen years on, TCF has 92,000 students studying in 660 schools in Pakistan. However, what has really set it apart is its unique philosophy. Unlike other non-profits, the TCF head office on a weekday is buzzing with purposeful energy. It was from this office that Haleema Sadia received a call that changed her life. A TCF student in the Al Ameen Campus, Jumma Himaiti Goth, Sadia got a low mark in her Intermediate exam which made her give up her studies. "I'd got engaged," she says, "and I had a low percentage in the Inter exam. Even before my family started pressuring me, I'd given up.

But it broke my heart to think that I would not be able to pursue my dreams, that my education would terminate at an Inter degree. Then I got a call from Naima Hasan encouraging me to apply to university. I think she must have made this call to every student, but for me that call had a special significance. The thought that my education mattered to somebody goaded me into pursuing my studies." Today, Haleema Sadia is a graduate of the Federal University and plans on working after finishing a short course in web design. Her sister Azeema, who did her Matric in 2006, is studying for a Bachelors of Computer Science at the renowned Bahria University.

Azeema gets up at the crack of dawn everyday for the two-hour commute from her town on the outskirts of Karachi to Bahria University. She frequently arrives home well after maghrib for which she is scolded by her grandmother. But she loves every minute of her life. "Attaining this kind of education was unthinkable for us before," explains Haleema Sadia. "We want to change the attitudes in our community which prevent girls from studying or working." Young women from Pakistan's rural areas are doing just that.

Rural Pakistan has an abysmal literacy rate and few women from Roranwala, Punjab venture into higher education. Durdana Rehman is a remarkable exception. After completing her Matric from TCF's Shirin Sultan Dossa Campus II she went to Defence Degree College for Women in Lahore. Now, she is doing an MBBS at the highly competitive Fatima Jinnah Medical College which not only has students from all over Pakistan but also expatriates from Saudi Arabia, Kuwait and other countries. By pursuing her dream of becoming a doctor, Rehman has become a trailblazer, a role model that other women in her village can follow.

There is Irfan Kilyar, who says he never gave much thought to his studies before joining TCF. Now he is a confident and driven young man with experience in the real estate business, a stint managing the Unilever account at The Resource Group, and plans of doing an MBA and CFA. He has now left his job to study for the Institute of Business Administration (IBA) entrance test. Education is, among other things, a status symbol and Pakistan's bastions of learning — the Grammar School, LUMS, Aitchison — also present barriers of class.

Students from low-income communities are crossing this barrier with TCF's aid. Thirteen-year-old Saqib Shaukat, the son of a police constable from Bhai Pheroo, has received a scholarship at the traditionally elitist Aitchison College and is studying at an institution which nurtures the country's leadership. TCF's achievement is not simply 'educating the poor' but, crucially, bringing them into mainstream society, liberating them from their narrow orbits, equipping them with the vision and zeal to follow new paths. Many TCF students return to their alma mater to serve as teachers and managers, others opt for higher studies.

This contrasts sharply with the performance of other educational NGOs where producing even Matric graduates is considered a major big achievement. One of the reasons for this, naturally, is the network of connections and influence available to the captains of industry who comprise the board. Anees Hussain, the preparatory lessons provider, gives free classes to select students from TCF. Similarly, universities like IBA and CBM give special consideration to students' background when deciding admissions, taking pragmatic steps to fulfill great ambitions. In the maze of Pakistan's hazily defined education system, TCF has made available the practical channels these children need to succeed.

Moreover, TCF is a charity which is run as a corporate entity, with audited accounts, publicly available financial statements and maximum transparency. The set manuals, software and strong management system give the organisation such a powerful potential for replication that founding member Ateed Riaz likens it to McDonald's. But the real determinant of success is the commitment to making the school experience meaningful for each and every child. The aim, says Riaz, is to create 'full citizenship'. "The first thing is to take these children through eight to ten years of a positive environment. Your environment has a subliminal effect on you.

We are all products of the formal system [of schooling] and we want these children to have the same experiences." This is the reason that, while other NGOs see the lack of education as a problem and are content to impart it in make-shift premises, TCF sees a beautiful, spacious, purpose-built school-building as integral to the process of empowering children. "We are breaking a barrier," says Beena Kohati, who manages marketing relations "We're telling these kids that you can also have this sort of a life — through education."

As for Anum, future CFO, she laughs when recounting how her father shows people her photograph in the TCF newsletter. "He boasts about me every chance he gets." These first few graduates of TCF — young people from backgrounds devoid of opportunity, resistant to change — will be role models for the next generation in their communities and harbingers of societal change.

Published in the Express Tribune, May 16th, 2010.
COMMENTS (18)
Comments are moderated and generally will be posted if they are on-topic and not abusive.
For more information, please see our Comments FAQ