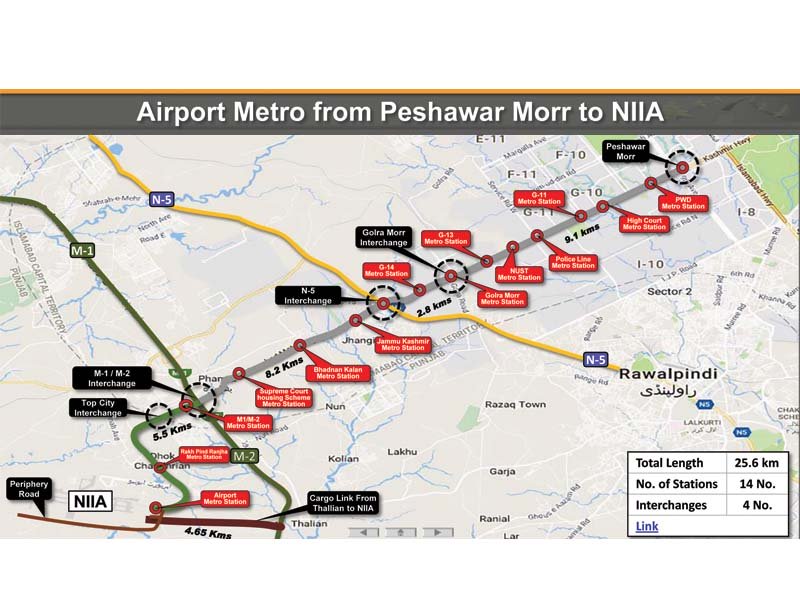 ---
ISLAMABAD: The executive board of the National Highway Authority (NHA) on Monday gave formal approval for the hiring of consultants for the infrastructure design of the Rs18 billion extension of the Islamabad Metro Bus line.

The decision was taken ar an executive board meeting in which the NHA chairman Shahid Ashraf Tarar informed participants that the project envisaged extending the existing route from Peshawar Mor to New Islamabad International Airport (NIIP).

While talking to The Express Tribune, NHA spokesperson Kashif Zaman said the NHA has already invited bids for infrastructure design through print advertisements, and that the tender deadline is January 31.

By February 15, we hope the design will be ready and the entire project will be completed by August 14, in line with directions from the prime minister, he said.

The infrastructure work for the project will not affect the current layout of Kashmir Highway, he added.

"Unlike the existing Metro Bus project which has elevated tracks, this would have two parallel lanes constructed along Kashmir highway and the motorway," he said. There will, however, be new flyovers or underpasses added on Kashmir Highway and the motorway, he said.

Two main interchanges will be constructed at Golra Mor and N-5 (GT Road), he said.

Meanwhile, the NHA chairman also informed the meeting that the project was 26.5 km and would be divided into two packages – Peshawar Mor to G-13, and from G-13 to the N-5 interchange. Construction of 4 interchanges and 14 stopovers (stations) would also be part of the project, he said.

The Executive Board also approved the PC-1 for widening and upgradation of Chitral-Durrah Pass, Chitral-Bhamborat, Harnai-Sanjavi, and Kuchlak Bypass projects. The Chitral-Durrah project would cost around Rs8.6 billion, while, the Chitral-Bhamborat road would cost around Rs4.1 billion. The executive board also recommended these projects for CDWP and ECNEC approval.

Published in The Express Tribune, January 17th, 2017.