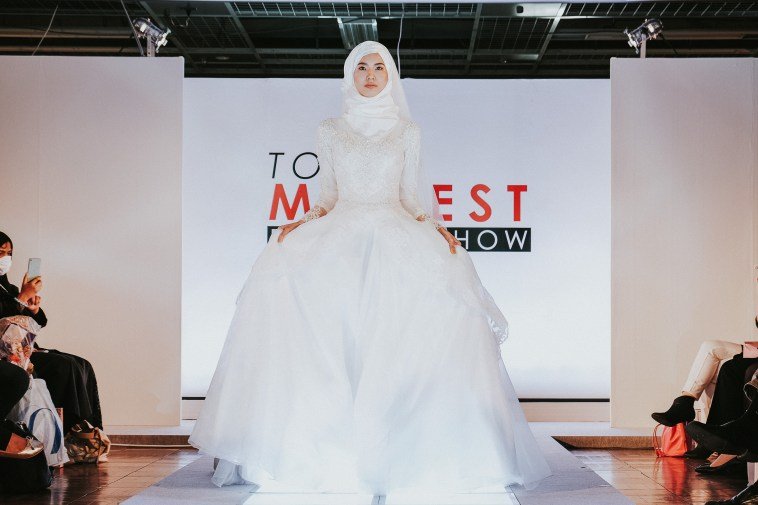 ---
The Tokyo Modest Fashion show rolled out its first edition in Japan this week, reported Mvslim. A part of Halal Expo Japan, the two-day event featured a diverse range of showcases, from embroidered hijabs, to floral printed abayas and beaded maxi dresses.

Designers from Singapore and Malaysia showcased their collections to cater to the growing number of Muslims in Japan. "Tokyo Fashion Show was an eye-opening experience for my company," said Nur Faadhilah Binte Akashah, business development associate for Fatimah Mohsin Singapore. "The intention of the trip was to solely expose my brand in the modest fashion scene that was up-and-coming in Japan."

FPW 2016: Winning hearts, yet again

Chiffon hijabs and sequinned abayas were spotted on the ramp as well. British lifestyle blogger, BubbleGumHijab, was on deck between shows to lead the styling sessions. Locals were dazzled by the different, chic ways to wear the headscarf.




"We had our own 'let's try hijab' [session] among all the visitors and the acceptance from the Japanese was incredible," added Afiq Iskandar Razizad, business development director for Rina Salleh Clothing. "Some of them bought the shawls after the session. Some of them came out from the exhibition hall wearing hijab after trying it."

Japanese retailers have noticed the spending power of their estimated 100,000 Muslim residents. In June 2016, Uniqlo launched a line of hijabs and modest wear — a collaboration with British-Japanese fashion designer, Hana Tajima — at their outlets in Japan. The launch followed the success of its debut in Malaysia, Singapore, the US and UK with great appreciation.

Morocco bans production and sale of burqas: reports

"Modest fashion has been on the rise internationally, and not just among Muslims," mentioned Akashah. "Perhaps people are paying more attention to it because of the increasing popularity of modest fashion in non-majority Muslim markets. The misconception that modest fashion can't be cool, stylish or elegant is, now more than ever, being challenged and we are glad to be driving this change in Singapore and the region."

Tokyo Modest Fashion Show is expected to return later this year.

Have something to add to the story? Share it in the comments below. 
COMMENTS (2)
Comments are moderated and generally will be posted if they are on-topic and not abusive.
For more information, please see our Comments FAQ