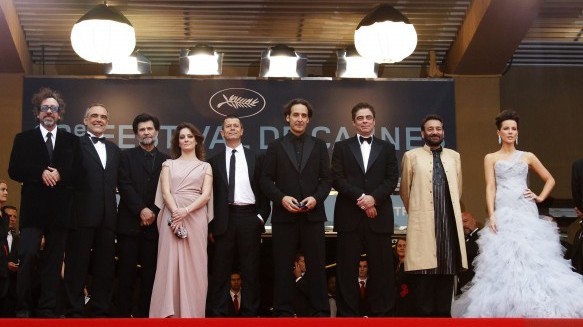 ---
CANNES: Cannes kicked off its annual frenzy of star-studded premieres, parties and provocative arthouse films with a gala screening of the Hollywood blockbuster Robin Hood.

Russell Crowe and Cate Blanchett, who star as the legendary English outlaw and his love interest Lady Marian, strolled up the red carpet late Wednesday for a screening of the film by Ridley Scott.

The festival jury led by Tim Burton took a swipe at Iran by leaving one chair symbolically empty for jailed Iranian director Jafar Panahi as they arrived on the stage for the opening ceremony in the festival palace.

Panahi had been invited to join the jury but has been held in Tehran's notorious Evin prison since March, reportedly because he was making a film about the disputed 2009 Iranian presidential election.

But controversy was unlikely to dim the star-power wattage of the 12-day festival due to host Sean Penn, Mick Jagger, Naomi Watts, Woody Allen and Jean-Luc Godard and a bevy of other A-list celebs.

"Cannes is great glamour, great craziness. There's nothing like it in the world, not even the Oscars," said British actress Helen Mirren.

Thousands of star-watchers cheered as celebs like Eva Longoria, Bollywood beauty Aishawrya Rai-Bachchan, and Salma Hayek filed in to watch Robin Hood, whose director was unable to make Cannes because of a knee injury.

Movie fans and industry suits were also massed in the palm-lined resort for the launch of the 63rd edition of the festival, whose heady cocktail of deal-making, glamour and art makes it the top film event of the year.

Robin Hood is screening out of competition, like another major Hollywood film, Oliver Stone's Wall Street: Money Never Sleeps.

Stone's movie sees Michael Douglas reprise his 1987 role as corporate raider Gordon Gekko, who coined the phrase "Greed is good," getting out of jail and warning Wall Street of impending financial disaster.

Nineteen films are in the race for the Palme d'Or to be awarded on May 23, including works by major arthouse names like Iran's Abbas Kiarostami and Britain's Mike Leigh and Ken Loach.

Loach, who scooped the Palme in 2006, made a late entry on Monday with Route Irish, a movie about British security contractors in the Iraq war.

The only US film in competition for the Palme this year, Fair Game by The Bourne Identity director Doug Liman, starring Sean Penn and Naomi Watts, looks at the former US government's bid to smear CIA agent Valerie Plame.

Cannes 2010 will also see premieres of films by Mexico's Alejandro Gonzalez Inarritu and Japan's Takeshi Kitano. US film-maker Woody Allen, 74, and New Wave icon Jean-Luc Godard, 79, add to the largely veteran line-up.

Asia has a strong showing in the race for the Palme, with two entries from South Korea, Poetry by Lee Chang-dong and Im Sang-soo's The Housemaid, and with China and Thailand also represented.
COMMENTS
Comments are moderated and generally will be posted if they are on-topic and not abusive.
For more information, please see our Comments FAQ