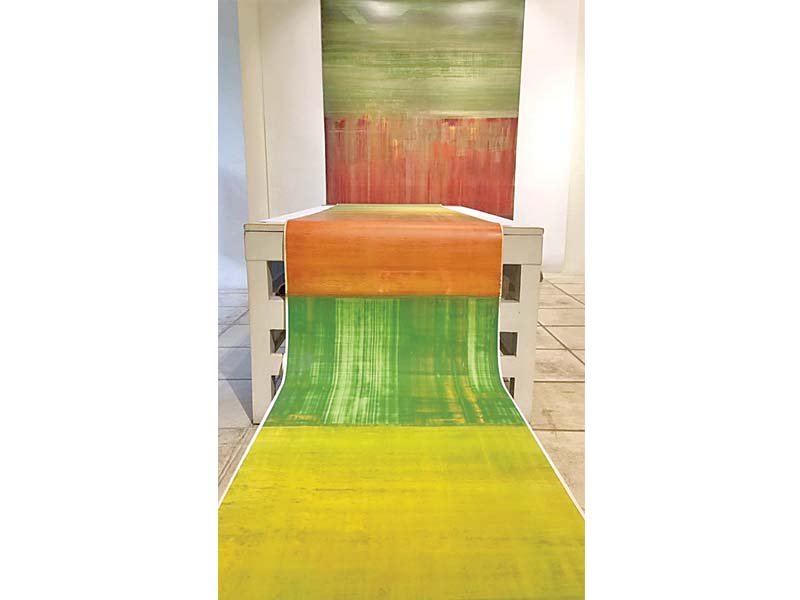 ---
KARACHI: With the conclusion of a four-week-long in-house residency, five artists put their works on display at Koel Gallery in 'Recorded Time: Culmination of the Residency Project'.

The residency used the concept of an open studio, in which visitors could come to see the artists' progress at any time during the month-long project. The project was conducted within the gallery space and challenged the nature of the space itself.

Artist Ayessha Quraishi brought forth the concept of lines in her work. Though the art seemed vaguely repetitive, the endless nature of the scroll she created implied continuum and seismographic marking, with different colours and shades.




In the work of Yassir Vayani, objects we see in everyday use were explored. He used them to express, via sculptures and drawings, analogical details. "Via art form I am putting myself in optical illusion," he said. Some of the items he used included used deodorant bottles and used medicine strips.

Sara Pagganwalla brought forth an interesting mix of colourful crystals. "Bringing crystals into the gallery space was an exciting experiment to undertake. It involved a lot of research and from temperature to humidity it was a detailed process that took over a month to finally execute," she explained. Her work included skulls and random crystals on a table.

Sarah Hashmi displayed her collection of drawings she made and items she picked up visiting Saddar and viewing the Victorian buildings. "Looking at those buildings one came to know the history behind them and I have tried to preserve the history since 1947." Hashmi's detailing on some drawings was most captivating. "It was good to see crowds hanging around as I painted those buildings in front of them," she said.

The fifth artist, Ammara Jabbar, created a 'fruit theatre' in which she explored femininity and masculinity. Part of the exhibit was a machine that blew vapor into the small cardboard theatre. The vapor was made up of laundry starch and turmeric. "The starch or kalaf is illustrative of the stiffness of the white starched male kurta while the turmeric is symbolic of the rituals before marriage and idea of female beauty," she explained. "Essentially the contents of the steam are unknown and what remains is the element of the theatre, the aesthetics of which a derived from the informal magic shows we saw when we were younger," said Jabbar.

The event was curated by Sadia Salim and will end today.

Published in The Express Tribune, January 13th, 2017.