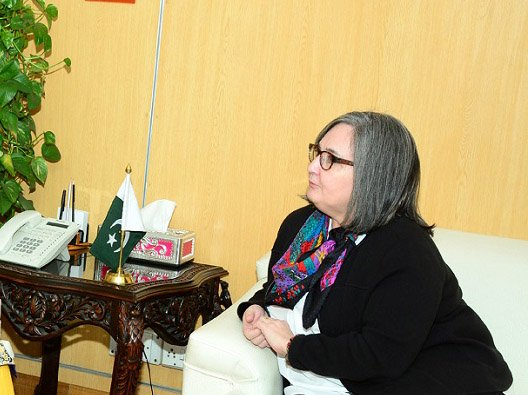 ---
Google Director for Public Policy and Government Relations for Southeast Asia and Greater China met Finance Minister Ishaq Dar in Islamabad on Thursday.

"Google could play a role in promoting e-commerce in Pakistan," Ann Lavin said.

Acknowledging the economic progress the country has made in the last three years, Lavin said her company could play a role in IT development and promotion of e-commerce in the country.

'Pakistani e-commerce expected to hit $1b by 2020'

While discussing the possibilities of her company's collaboration in digitalisation of economic activity in the counter, the Google director said her company could also assist in attracting investment in Pakistan.

On this occasion, Dar asked the Google director to submit a complete plan for implementation of these proposals so it could be considered by relevant stakeholders. The government is committed to providing a level playing field to all prospective local and foreign investors, he added.

Women seek leadership in Pakistani startup culture

Further, the minister said that Pakistan has been projected by renowned international institutions as the second best place for investment in the world, adding that the turnaround of Pakistan's economy, macroeconomic stability, improvement of energy and security situation in the country has provided a conducive atmosphere for enhanced commercial activity and foreign direct investment while a number of new entrants have shown keen interest to invest in Pakistan's IT sector as well.

The meeting was also attended by the senior officials of the Finance Division and Google representatives.
COMMENTS
Comments are moderated and generally will be posted if they are on-topic and not abusive.
For more information, please see our Comments FAQ