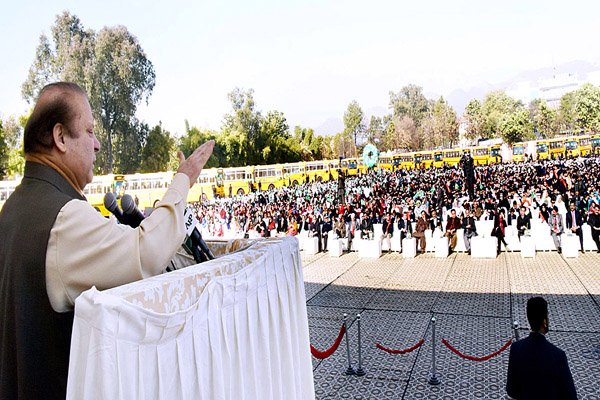 ---
ISLAMABAD: Prime Minister Nawaz Sharif on Wednesday distributed the keys of the first tranche of 30 buses to various schools and colleges in the capital under the PM education reforms programme.

The buses purchased under the Prime Minister's Education Reforms Programme for schools and colleges in the capital were gathering dust for the past two months due to the busy schedule of the premier.

The Prime Minister had announced 200 new buses for schools and colleges in Islamabad Capital Territory last year. The first tranche of 30 buses started to arrive since October 19, and 40 more are expected to arrive by the end of February.

The rest will come in the new fiscal year. Each bus seats 63 people and is equipped with a small refrigerator. In the first phase, most of the buses are being given to rural areas schools and two centres for special children.

The inauguration took place at F-8/4 school wherein a large number of children were invited to attend the ceremony, especially special children. The prime minister inaugurated the new bus service by cutting a cake resembling a yellow school bus and took a short drive in a new bus with the children.

The premier said we will try to give all 422 schools and colleges at least one bus each.  Recently the premier has approved PC-1 for the upgradation of 200 schools but on the occasion, he asked the concerned officials to draft the plan of upgradation of all 422 educational institutions functional in ICT. He pledged to release more funds for the overhaul of all schools and colleges.

He said the government wants to ensure children are provided with all latest facilities and an excellent environment for studies. He also announced that a bypass will be built for schoolchildren coming from Bhara Kahu.

"You children are the future of Pakistan," the premier said, to huge applause from the audience. "You are precious to us, you will grow up and serve the country. You will make us proud."

Published in The Express Tribune, January 12th, 2017.

 
COMMENTS
Comments are moderated and generally will be posted if they are on-topic and not abusive.
For more information, please see our Comments FAQ